Indian Super League
ISL 2017: FC Pune City coach Ranko Popovic suspended for four games and fined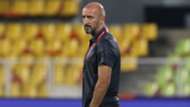 Indian Super League (ISL) outfit FC Pune City will be without the services of their manager Ranko Popovic after the Serbian was banned for four games and fined for the remarks against the match officials after his team's 2-0 win over FC Goa on 23rd December 2017. 
The four-match suspension is effective immediately and a fine of ₹5,00,000 has also been handed out to Popovic. 
"Mr. Ranko Popovic, Head Coach of FC Pune City is fined Rs 5,00,000 (Five Lakh INR) and is suspended for 4 (four) matches of FC Pune City, from the date of this decision. The amount should be deposited to All India Football Federation (AIFF) within 10 days from the date of communication of this decision and until such payment, the match suspension to continue, over and above 4 match suspension," said the AIFF Disciplinary Committee's communication to FC Pune City. 
The AIFF Disciplinary Committee took a dim view of the Serbian's comments after the game where he felt FC Goa's Ahmed Jahouh should have been sent off in the first half.
Popovic said after the game, "If you want to talk about how many fouls they made in the game; in two games we got (players) sent off for nothing. Today what is this, rugby? Who was the referee (Rowan Arumughan) protecting? Are there different rules for Pune City?'' 
Further, Popovic slammed the referee's negligence at FC Goa midfielder Ahmed Jahouh's challenges on the field. 
''The number 5 (Ahmed Jahouh) had to sent off in 10 or 15 minutes but I am very happy because we behaved as gentlemen. We didn't make any rough fouls. We have to protect ourselves if someone (referee) doesn't have respect for us,'' he said.
AIFF Disciplinary Committee found Popovic in breach of Article 50 (misconduct against match officials) and Article 58 (offensive behaviour and fair play) for his remarks. 
Interestingly, Popovic was suspended for three months in the Thai League in June earlier this year for slapping an opponent team's physiotherapist in an incident that led to his resignation.
He is set to miss Pune City's home game against NorthEast United (30th Dec), away games to Kerala Blasters (4th Jan) and Chennaiyin FC (13th Jan) and ATK's visit to Pune (20th Jan).