Indian Super League
ISL 2017: Disciplined Jamshedpur FC pick off uninspiring Delhi Dynamos
Ashwin Muralidharan (@AshwinMNair10)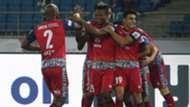 Last year, Steve Coppell's Kerala Blasters side had trouble scoring goals. They did not score in their first three games, which included a draw and two losses, before they found the net in a 1-0 win over Mumbai City FC in their fourth game. 
From then on Steve Coppell managed to mastermind a run to the final which was based on their defensive solidity.
This season, he has switched allegiances to Jamshedpur FC but the story has remained the same. After three goalless draws, Coppell's side have finally scored their first goal in a 1-0 win over Delhi Dynamos on Wednesday which is also the newly-established side's first ever victory in the ISL. 
Coppell, with his trusted henchmen from last season - Wally Downes and Ishfaq Ahmed, has forged another tough-to-break-down side.  The former Manchester United winger takes pride in his sides keeping cleansheets and they already have four. And we're only four games into the season!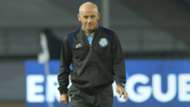 Building his defence around a strong and dominating central defensive pairing in Andre Bikey and Tiri, Jamshedpur have at least six players in pure defensive roles at the start of games. Mehtab Hossain and Memo, two solid holding midfielders, sit in front of the back four, making it hard for teams to scythe through them. In addition to this, wingers Bikash Jairu and Siddharth Singh tracked back effectively on Wednesday night to prevent Delhi's wide men - Guyon Fernandez and Lallianzuala Chhangte - from running at the defenders. 
One thing is very clear - Jamshedpur FC are not here to entertain fans. Steve Coppell prioritises results over anything else. They did not have any problem in relinquishing possession to Delhi on Wednesday and sit back and play on the counter. 
Miguel Angel Portugal's side showed fantastic short passing for most of the game, but without really threatening the Jamshedpur backline. Paulinho Dias and Vinit Rai kept things ticking over in midfield but Chhangte, Fernandez and Jeroen Lumu just could not provide the killer final ball, meaning Kalu Uche was bereft of service amid Delhi's sterile possession of 71%. 
The hallmark of the first half was insipid football from both sides. While Delhi failed to create, Jamshedpur were happy to sit and destroy. But the Men of Steel displayed a sense of urgency after the break, which was often seen in the Kerala Blasters sides from last season. 
After struggling in the first half for numerous games, Coppell's Blasters often found a second wind in their sails after the breaks with many of those performances fetching the side crucial points which helped them reach the final.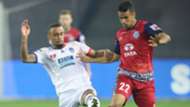 On Wednesday, it was the same story all over again. In fact, Jamshedpur should have won by a bigger margin. Delhi froze after the break and were picked off by a shrewd Jamshedpur FC side. 
Albino Gomes was forced into early saves from good deliveries into the box. There was a concerted effort to deliver quality into the box from both the wingers. Memo and Bikey had headers saved before Pratik Chowdhury clumsily brought down Izu Azuka inside the box. 
Fortunately for Delhi, Bikey's penalty was extremely poor, resulting in a save. The choice of penalty taker is debatable but then again, Bikey's blushes were spared only moments later when Mehtab sent in a brilliant delivery into the box. Gomes was unsure about coming to claim it and Azuka glanced it in to record their first ever goal and inject some life into the game. 
But, an expected fightback from Delhi never materialised despite the fact they were the home team. Only a combination of saves from Albino Gomes and Cichero's committed defending kept the scoreline at 1-0. 
Miguel Angel Portugal should be a worried man right now. After three losses on the trot, his side seem to be bereft of confidence. They missed the creative spark and looked unable to force the issue in spite of dominating possession on the night.
Steve Coppell's plans, however, seem to be unfolding exactly as he would have wanted. Despite all the gripe over attractiveness and potency in front of goal, six points from four games (three of them away games) and four cleansheets is not a bad way to start the season.