Indian Super League
ISL 2017: Steve Coppell says Jamshedpur FC have delivered so far in the league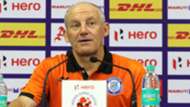 Steve Coppell's Jamshedpur FC come will be in action against the Delhi Deynamos in the national capital on Wednesday.
With pollution levels in Delhi dominating headlines recently, the Englishman said it was a problem which had been prevalent in the previous year too and it was shocking that nothing had been done about it.
"It is like déjà vu for me really. Last year when I came here with the Kerala Blasters around Diwali, the particulate matter in the air was around 500. I think it is somewhere around 300 this time," he said.
"There was a lot of commentary about the topic last time and one year later, nothing has been done about it. I had suggested that Delhi should not be hosting matches around this time last year. It is something for the health officials to see and do something about. If you ask me honestly if I would like to play in such conditions, I would say no," he went to add.
Asked if players would wear masks on the field on Wednesday, Coppell said it was very difficult to play with masks on.
When asked if his side had failed to deliver with three goal-less draws in the league so far, the manager said he was of a completely different opinion.
"We have delivered! How can you say three 0-0 draw has not delivered? A brand new team which has never played in the ISL before, two away matches against the NorthEast and Kerala Blasters and you say we have not delivered with the 0-0 draws," the Englishman said.
"Obviously we would love to score. We do not enter the field of play trying not to score. We are playing against good quality sides who have much higher ISL football experience than we have," he added.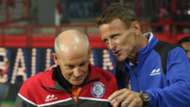 The former Kerala Blasters coach said he is not looking to spruce up the attack as such to address the lack of goals.
"I do not think like that. Before every match, I pick the team I think is capable of delivering the victory for us. Delhi are a very good side, they play a lovely football. They attack you and they give you a chance to attack them. I am really looking forward to it," Coppell said.
The 62-year-old said that Delhi's two losses coming into the game will have no effect on Wednesday.
"In football, I believe, that the previous games don't affect you too much. Obviously it's on the back of your mind but the previous result does not matter," he stated.
The Englishman was not happy about the pitch at their home ground in Jamshedpur for the last match.
"You look at our start. We played two away games. Then we played on a brand new pitch at home what we expected would be a perfect surface but it obviously wasn't. It made football very, very difficult. When you can't make a pass without knowing your standing foot to remain cemented and firm, it is very difficult," he said.
Coppell did say he expected improvements soon on the pitch and hoped his players would have a better surface to play on without the worry of getting injured.
The Liverpool-born man said that the league had changed a lot since his time at Kerala Blasters in the previous season.
"We have a smaller squad. We have only seven foreigners. We have more Indian players. All these small changes, when added up, make a huge difference," he remarked.