Indian Super League
ISL 2017: Miguel Angel Portugal wants Delhi Dynamos to replicate performance from opening game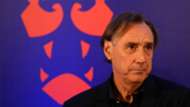 Ahead of their second home clash of the fourth edition of the Indian Super League (ISL), Delhi Dynamos manager Miguel Angel Portugal was speaking to the media in the pre-match press conference in New Delhi.
The Spaniard provided an update on the fitness of Sena Ralte and attacking midfielder Matias Mirabaje ahead of the visit of Jamshedpur FC.
"Sena Ralte and Matias Mirabaje are not ready yet. They will need another week," Portugal said.
"In the team we have 22-23 players. It is not just about one player," he added.
The Delhi tactician was queried on the pollution problem in the national capital and whether he would consider requesting for a change in venue.
"The pollution is a problem. But it is not only a problem for the players and me. It is a problem for the people of Delhi," he replied.
"In the league we have home matches and away matches. This is our home so we have to play here. We have been training with masks so it is fine. What I do not understand is why the people are not wearing this mask as they need it," the former Real Madrid B manager added.
The Spaniard however clarified that the players would not be donning the masks on match-day due to their own preference although he admitted he would have no objection is a player did choose to wear one.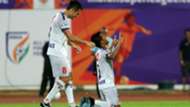 Asked is young winger Lallianzuala Chhangte could start on Wednesday after being brought on from the bench in the previous match, Portugal said it was very much possible.
"It is possible. We play so many matches in a short space of time so we need to make full use of the squad. So yeah, Chhangte could start against Jamshedpur," he stated.
The Dynamos were beaten 2-0 by NorthEast United FC and Portugal blamed individual errors both in defence and attack as the reason for the loss.
"We made too many individual errors. Not just in defence, but also in attack where we have three to four good chances to get a goal. So this is a probem. We play always for a win. For a win you need one goal minimum. If they score it is okay but I need one goal more than the opponent. That is the way I play," he said.
The Delhi boss was full of praise for Jamshedpur's solid defence so far in the ISL with Wednesday's opponents yet to concede a goal in its three matches so far.
"Their defence is very good. That is their philosophy and I admire it. I have my own philosophy and that is what it is. He (Steve Coppell) does not like to concede a goal while I like to score a goal more. It is a confrontation of philosophies and that it what the competition is all about. To see what is the best philosophy," he stated.
"I like to see the philosophy we displayed at Pune in our opening match. That is the psychology and mentality I want to see from my players," he added.
The Dynamos boss also refused to blame the lack of home support in the opening home match as a reason for their loss.
"Yes few people came to the stadium last time but they made a lot of sound for the team so that is not the problem. The problem is the team," he said to conclude.