Indian Super League
ISL 2017-18 Playoffs: Ranko Popovic - Referees have never felt football the way we have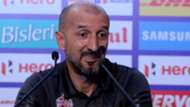 Ranko Popovic has led FC Pune City to their first semi-finals of the Indian Super League (ISL). Now they face Bengaluru FC in the first leg of the knockout tie at home on Wednesday.

"In the league, you have a chance to redeem yourself in some other games if you didn't do well in one. Now, it is the knockout and we have to be more careful. These are two different games. Nothing will be decided tomorrow. But we have to play smart in both legs and stay in the game if we want to go to the final. You have a chance to do something more and we will try to do it the best way," Popovic spoke about the mentality going into the crunch game.

"There is no special preparation. Special will be to repeat some of our good performances in the league stage tomorrow. Because of those, we are in this position now. Now if we try to do some radical changes, it will be bad for us," he replied when asked if he was to do anything 'special' ahead of the game.

The Stallion's top two forwards Marcelinho and Emiliano Alfaro were each suspended for the last two games and both players are back in contention. Popovic provided a funny analogy to the situation. " In Barcelona, when Messi is suspended then how can they play? When Suarez is suspended then how can they play? I think everyone else cares more when Messi and Suarez are suspended than how much the coach cares. Same goes for us.

"It is important for us to have both or one of them available because they are important for the team. We have Marcelinho and Alfaro who are at the top level but we must have the other players that must help them. If other players are not in the game, both will find it very difficult to help us. That is why you need to play like a team and have a player that is playing in his own top level."

The Serbian further stated, "[The match is] very difficult because there is a fantastic team against us. The best team in the regular season. Even before the season, we knew Bengaluru and Goa are the best teams with good Indian and foreign players. But tomorrow is the time for the truth. We are part of this story now and we want to make this story more interesting.

The strategy is to concede fewer goals as possible and to score more. If you do that home and away, we are in the final. We need to repeat the good moments. We had a good balance except for the last two games. There is no pressure, we have to express ourselves the best way like we did in the season. Need to be original and that is what we have to do. It is easy here to speak but on the pitch it is different.

When I came here, I came to reach somewhere [to win trophy]. I am not coming here to participate and to play. I have reached the first objective but it will be great if we can continue this. I will not be satisfied if we do not try to go the two steps more.

Need the boys to walk into the field with a mind for victory. Maybe we make the first step for the victory there (Bengaluru). We have two games and I won't be telling now that we need to be more careful in the first leg. No. If we can win the game, we will be coming to win. This is a fantastic possibility that we have to beat the best team from the regular season, if you beat them, you are the best. Simple."

Popovic has had his fair share of controversies with the authorities after his extravagant comments on the shoddy refereeing but he did not shy away from his feelings. "I don't' know how you can control something after you know the rules of the game. Some decisions, one is a penalty in a game and is not in another. I try to control my emotions but you have never seen 5-6 Pune City players surround the referee and try to push him. We respect them more than any other team.

I have 40 years of experience in football and I don't even know if the referees are even 40 years old. I'm asking for a little bit more respect. They are human beings, they make mistakes but if they want to be better they need to sometimes hear what we say because from that they can learn.

This is an experience too. They have never played football and have never felt football the same way we have. Also, they have one other job, we don't have a reserve job. I have only one job and I tell my boys that he cannot lose his job because of my mistake. I can lose my job because of his mistake. If they understand this, they will have a little bit more respect." he concluded.