Indian Super League
ISL 2017-18: Jamshedpur FC's Steve Coppell: FC Pune City looked dangerous on the break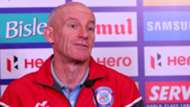 Jamshedpur FC were defeated on Wednesday evening at the Sree Shiv Chhatrapati Sports Complex by hosts FC Pune City in a 2-1 result which saw The Orange Army fight back in the second half with two goals to seal the victory.
Assessing the performance of his side, head coach Steve Coppell stated that he was pleased with the visiting side's display and he did everything possible to introduce attack in the latter half while they were trailing. Further, the Englishman added that Ranko Popovic's army was lethal on the counter and playing a fixture within a span of three days took a toll on his troops.
''First half was probably terrific; second half we saw the two goals and then we had a fabulous drive to try to score a second (goal), in my opinion. FC Pune City looked dangerous on the break but that was a risk we had a to take to throw men forward in order to take chances and get back in the game. I'm pleased with the way we played. It was a three-day turn-around for us; it is difficult to play back-to-back games in three days,'' he commented.
The duo of Emiliano Alfaro and Marcelinho troubled the Jamshedpur defence and Coppell mentioned that his defenders struggled to contain the attacking pair in the latter half. ''They moved Marcelinho up to a wider position, in isolation. When he was in the middle, we could crowd around him and (Emiliano) Alfaro. But when he went out wide, it became difficult to contain him,'' he explained.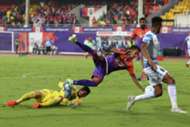 ''We didn't come here to play in a restrictive way. It wasn't just about stopping their (FC Pune City's) play, we were trying to hurt them as well. I don't blame anyone; my players were terrific. The result won't define our season, it will shape it," he expressed.
The 62-year-old believed that the Jharkhand-based side created enough opportunities on the field which he was glad about. ''I am not dissatisfied because all you can do is create chances; you can never guarantee that chances can be converted. Today, I look back and things look good. There were a number of opportunities. I have no complaints; I don't mind missing chances but when they aren't there to miss them, that's when I have a problem,'' commented the Liverpool-born manager while evaluating the result.
Jamshedpur will now fly to Kolkata to face ATK on Sunday, who bid goodbye to Teddy Sheringham on Wednesday afternoon.