Indian Super League
ISL 2017-18: Avram Grant unsure about extending NorthEast United FC stay beyond current season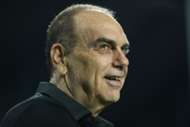 NorthEast United FC head coach Avram Grant will take charge of his side for the final time in the Indian Super League (ISL) 2017-18 season when they face ATK on Sunday.
With not much to play for, given that the side are rooted to the bottom of the table, Grant is hoping to use the match as a platform to prepare for the Super Cup.
"The main thing is that we win the game. This is the last game and then there is the Super Cup so we have to end the season on a good note and perform well in the last game and pick a good result," he said at the pre-match press conference.
The former Chelsea coach admitted that he had taken over the club under difficult circumstances but wants to finish on a high.
"The most important thing is that it is the last game and we need to improve a lot because we have scored around eight goals since I came here and we didn't do it before and it's a small percent of the chance that we have had," Grant explained.
When asked if the Israel-born coach would consider extending his stay in India beyond the 2017-18 season, Grant refused to commit to anything just yet.
"Nothing in football is a surprise as I said to the first question. I don't like to speak about the future in football because you never knew what is the future. Sometimes you sign a contract for four years and don't stay and the club I did stay for four years had me signing a new contract every season," he stated.
"It was a good experience for me – Indian football. Many good things, many things that needed to be felt.  I am happy that I have made a very small part in this development. I want to see Indian football developing. I don't know what will happen. What I can say for my club is that there is a lot of passion from the owners. Putting money from your private pockets is not as easy job," Grant went on to add.
The 63-year-old remarked that his job had been to stabilise the side to build for the future.
"I came here when he (John Abraham) asked me to come. It was part of building things for the future. What we are doing now because we know we are not in a good situation now is to build good things for the future," Grant said before signing off.