Club Friendlies
Is Wayne Rooney coming to Kenya next year?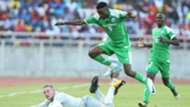 At least one English Premier League side will play in Kenya in 2018.
Hull City are set to play a 'return' leg against a combined Kenyan side on July 18, 2018, with 'another' team, most likely Everton jetting into the country a week later.
Should Everton be confirmed as the other team to visit Kenya, then Manchester United all-time goal scorer, Wayne Rooney will be making his second trip to East Africa in under a year should the Toffees hold onto their players by July.
Rooney, who joined Everton in the last transfer season from Manchester United, was part of the Toffees squad that played against Gor Mahia in the SportPesa Super Cup in Tanzania last July.
An English Premier League side is set to play the winner of the Super Cup on July 27, 2018, at Kasarani according to the calendar released by KPL.
"Please note that the International opponent for the winner of the 2018 SportPesa Super Cup is yet to be confirmed. This means that Everton is not confirmed," KPL clarified.
Everton beat Gor Mahia 2-1 in Dar es Salaam, Tanzania, in the inaugural Super Cup.