U17 World Cup
Indian Football - Stephen Constantine set to spread reign over India's U17 national team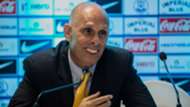 In an unexpected turn of events, Stephen Constantine - the coach of the Indian national football team - is set to take over at the helm of the Indian U17 national team as well, after it emerged he'd agreed to coach the Colts on a temporary basis. He is expected to leave for Goa on Sunday and take charge for a week, according to sources close to Goal.
The 54-year-old coach, under whose tutelage the Blue Tigers have risen to 130th in the FIFA rankings, will train the side scheduled to participate in the U17 World Cup until the All Indian Football Federation (AIFF) arrive on a consensus as to who will replace Nicolai Adam.
Man Utd reach defensive milestone for first time since Sir Alex era
Adam departed the position of the U17 coach earlier this month on account of unmitigable differences between the players and himself.
With an eye on performances at the World Cup, the Indian FA have approached Constantine to drill the fledglings in with a sense of discipline and ensure continuity in operations.
"The under-17 team is not in my domain and hence I don't want to react to what happened. However, I have told the AIFF (All India Football Federation) that I am available. Now, it is really up to them," revealed the coach to Hindustan Times last week.
Paul Pogba posts awesome family song and dance routine
Late last week, the President of the Indian FA, Praful Patel, revealed that Technical Committee chairman Bhaichung Bhutia and Scouting head Abhishek Yadav had been drafted in to aid the team's preparation and development.