Federation Cup
Indian Football: Bengaluru FC blame Federation Cup fixtures logjam for Sunil Chhetri injury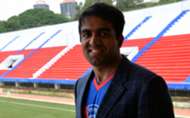 Parth Jindal, the CEO of Bengaluru FC had communicated to the All India Football Federation (AIFF) in a conversation with President Praful Patel and in a letter to General Secretary, Kushal Das about some unfairness in the fixture logjam in the ongoing Federation Cup. 

In a letter spanning five points, Bengaluru FC spoke about the unsuitability of Cuttack as a venue for the Federation Cup especially with the grueling temperatures in a 4 PM kickoff while also squarely laying the blame on AIFF for the injuries to their players due to the harrowing fixture jam, the first victim of which was skipper Sunil Chhetri who hobbled out of the match against Mohun Bagan. 

They also raised the issue of Aizawl getting an extra day of rest as the two teams meet in the first semi-final on Sunday while their upcoming AFC fixture too in a couple of days against Mohun Bagan in Kolkata was also a cause of worry. 

In addition, the team also wanted the final to be moved to 24th May should Bengaluru qualify for the same keeping in mind their AFC commitments on 17th May. 

 
May 13, 2017
May 13, 2017