U17 World Cup
India Under-17 World Cup: Why AIFF chose Luis Norton de Matos for the India U-17 team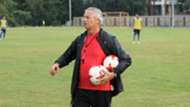 The All India Football Federation (AIFF) and Nicolai Adam parted in acrimonious circumstances earlier this year. Less than nine months before the Under-17 World Cup and the Indian FA were left with a tough task of appointing another coach.
Over 70 CV's came in such as that of Stuart Pearce, Oscar Bruzon and Colm Toal. The AIFF appointed an advisory board which included the likes of former players Bhaichung Bhutia, I.M.Vijayan, Stand-in Technical Director Savio Madeira and India Under-17's Chief Operating Officer Abhishek Yadav.
Seven coaches were shortlisted by the AIFF before the advisory committee met. At least two members of the panel were in support of Toal stating that someone with a prior experience in Indian football would certainly help.
The AIFF conducted interviews with each of the final seven candidates and were convinced most by Luis Norton de Matos. Thereafter, they used their contacts in Portugal to cross-check the background of the former Benfica 'B' coach.
There were reports of a few members in the selection panel not being happy but those were quickly subsided once Matos flew down to meet AIFF and Sports Authority of India (SAI) officials before having a final discussion with Praful Patel, the Indian FA president at his Mumbai residence.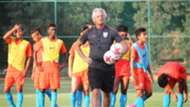 "The idea was to bring in someone who has loads of experience," informed Kushal Das, the AIFF general secretary, on reminiscing the decision to rope in Matos.
"If you had seen the games we played before, the transition between defence and midfield wasn't smooth. We would run a lot but end up conceding a lot of goals. However, under Luis, we are far more organised.
"We wanted to rope in a coach who knew how to deal with youngsters and the players can look up to as a father figure for inspiration," said Das.