India U16
India U-16 hold Serbia to a goalless draw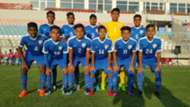 India U-16 held hosts Serbia to a 0-0 draw in the second game of the four-nation tournament on Friday. The Colts, coached by Bibiano Fernandes, had earlier beaten Jordan 2-1 in the opening match.
The match kicked off on a positive note for the visitors when Rohit Danu's early press forced the Serbian goalkeeper into an error but Gibson's desperate attempt to pounce flew wide of the goal.
Vikram found an opportunity to test the goalkeeper from distance as the first-half wore on but his strike was parried away. In the 80-minute game with two halves of 40 minutes each, Vikram again had a chance soon after the restart but sent his close-range effort inches wide of goal.
While the possession stats favoured the home side, India thrived on counter-attack and was solid at the back. Serbians failed to break open the Colts' backline and the match ended 0-0.
The India U-16s will now play Tajikistan on May 13, 2018.