Kaizer Chiefs v ZESCO United
IN DEPTH: How Zesco United countered Kaizer Chiefs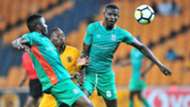 ---
Team News
---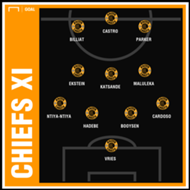 Chiefs have switched shape regularly since Ernst Middendorp took over, and decided against the 3-5-2 of recent weeks to switch to a more adventurous 4-3-3 formation, their usual go-to system when needing to attack and chase a game.
In defence, with Kgotso Moleko ineligible, it was a back four with Daniel Cardoso covering at right back and Godfrey Walusimbi left out in favour of Siphosakhe Ntiya-Ntiya at left back.
The latter has been described a "marvel to watch" and a "fantastic player" by his coach in recent weeks.
In midfield, Lebogang Manyama was missing with injury so George Maluleka returned from an Achilles problem in a midfield three.
Khama Billiat and Bernard Parker played as wide forwards either side of Leonardo Castro.
For Zesco, it was a disciplined 4-4-2 shape with the massive threat of Lazarous Kambole and Jesse Were in the wide areas.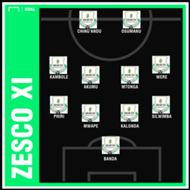 In defence, the side used a defensive and often narrow back-four with Marcel Kalonda marshalling the backline having served a suspension in the first leg.
With midfielder, Enock Sabamukama still injured, the midfield featured the athletic duo of Kondwani Mtonga and Anthony Akumu. Up front, Rahim Osumanu led the line as a target man, with John Ching'andu in support.
---
Zesco Man-Mark
---
In the early stages of this match, the away side visibly used quite aggressive man-marking on Chiefs in certain areas of the pitch.
With Khama Billiat stationed as a left winger, albeit with some freedom to move inside into the left half-space, right back Simon Silwimba had a very narrow role for Zesco, sticking close to his central defenders and not venturing forward on the overlap.
When Chiefs looked to build up from the back, his tight marshalling of Billiat meant that there was no early ball into the Zimbabwean's feet.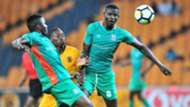 In central midfield, with Chiefs using Maluleka and Hendrick Ekstein in front of Willard Katsande in their triangle, Zesco instructed Mtonga and Akumu to aggressively close down those two creative players, thus making the engine room a very difficult area to play through.
A key component of the strategy by the away side was the defending from the front of Ching'andu, who could drop off to pick up Katsande, or move to the flank to support his wide players and not allow easy switching of play across the backline.
This plan from Zesco bore early fruit – Ekstein came in deep for the ball off Hadebe, but Akumu was very quick to press and dispossessed the Chiefs playmaker.
He continued his driving run and hit a left-footed shot from 30 yards which squeezed past Virgil Vries in goal. This was certainly a shot that should have been saved. At 1-0 up, Zesco now led 4-1 on aggregate and Chiefs would require three unanswered goals to even take the tie to extra time.
---
Chiefs Go Wide; Zesco Counter
---
With the counter-attacking pace that Zesco possessed in wide areas, leading 1-0 was the dream start for the away side, knowing Chiefs had no choice but to open up.
This threat was seen immediately as Kambole burst forward on a break from his own half and forced Katsande to hack him down and take a yellow card. Another counter led by Were saw Osumanu receive the ball in the box, but his touch was rushed and heavy, and a good opening was missed.
Chiefs' response to Zesco's tactics, was to move both fullbacks very high up the pitch to look to push their opposition's wingers back, whilst using the space opened up by Zesco's fullbacks tucking in to watch Parker and Billiat.
One of Chiefs' only real first-half opportunities came when Maluleka made a big switch to play out to Cardoso, whose cross was then headed wide by Castro.
For all of Zesco's excellent threat on the break, it came in the form of direct dribbling from the wingers and not from early, penetrative forward passes.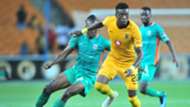 In fact, George Lwandamina's side looked awkward when trying to keep possession and any attempts to play out from the back invariably ended with long clearances when pressed.
Their midfield duo's excellent energy and pressing were not matched by their passing ability, so Chiefs could take the risk of pushing their fullbacks high, knowing that one pass was unlikely to put a Zesco striker through on goal considering Hadebe's recovery pace.
They could stop some counters by simply fouling the ball-carrier.
---
Half-Time: Chiefs Go For Broke
---
At the break, with Amakhosi needing at least three goals, Ernst Middendorp pulled off Teenage Hadebe and introduced Kabelo Mahlasela.
Also brought into the action was Andriamirado Andrianarimanana, surprisingly replacing Castro. This saw a major restructuring from Chiefs, seemingly switching to a 4-4-2 diamond shape.
Katsande was now in central defence, Maluleka was the deepest midfielder, Dax played as a shuttler on the right of diamond, and Mahlasela was the number ten. Parker and Billiat moved inside to play as a strike pairing.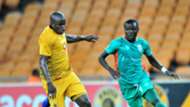 The thinking behind this was clear – with two strikers, Zesco's central defenders would not be able to use a simple "one gets tight, one covers" policy with a man each to mark, whilst Mtonga and Akumu could no longer aggressively close down Chiefs in midfield without leaving a huge hole between the lines for Mahlasela.
Akumu was immediately seen playing 20 yards deeper, marking Mahlasela, which meant Ekstein and Maluleka now had time and space to dictate affairs.
The shape was a little lopsided with Cardoso very much staying back and often looking more like he has on the right of a back-three, with Andriamirado moving wider as a sort of narrow wing-back. This hybrid shape meant very little width on the right side but was likely a change to have Cardoso close to Katsande to protect him.
---
Zesco End The Tie
---
Soon after Chiefs had their first really good opening as Mahlasela missed a clear opening from Parker's low cross from the left, Zesco ended the tie by making it 2-0.
With Chiefs 5-1 down on aggregate, even scoring four goals would not be enough for Amakhosi.
The goal was very basic in its creation. Silwimba hit a long punt down the field, Kambole robbed Katsande and when the ball broke to Were, he calmly curled home the sealing goal.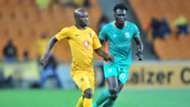 Katsande's complete lack of recovery pace was clear, making Middendorp's choice to take off the more athletic Hadebe instead of his ageing captain a puzzling choice.
Zesco immediately replaced Ching'andu with an extra defensive midfielder in Misheck Chaila, meaning a switch to 4-3-3.
The middle of the park was now secure again with Ekstein, Mahlasela and Siphelele Ntshangase (on for the injured Maluleka) matched up three versus three.
The Zambians then further solidified things by taking off striker Osumanu and adding Maybin Kalengo to the action. The latter played on the right to track Ntiya-Ntiya, with Were playing as the frontman.
The rest of the game played out with little real intensity with the result already obvious, but Billiat did pull a consolation goal back in the fourth minute of additional time as he converted Ntshangase's assist.
The strike may have had little bearing on this match, but provided an example of the chemistry and understanding between the duo, who were not used together in Giovanni Solinas' final matches in charge, and have barely been seen on the field together under Middendorp either.
---
Summary
---
This was a deserved win for Zesco, who managed to control the middle of the park, whilst still carrying a constant threat in the wide areas.
This is in contrast with Chiefs, who struggled to impose themselves centrally in the first half.
In the second period, Chiefs' changes took a hold of the central battle, but they had little genuine width on the right flank, and this narrow setup was easy for Zesco United to deal with. Much of this is down to the injury to Ramahlwe Mphahlele and Kgotso Moleko not being registered for continental action.
Chiefs came into this game with a mountain to climb after the first leg, and that looked insurmountable after Vries' 10th-minute mistake.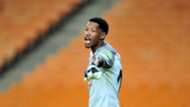 Middendorp rightly complained about his side's lack of freshness having had intense matches against Bidvest Wits and AmaZulu in the week leading up to these Zesco matches.
He argued for a full week for PSL clubs to prepare for these clashes, and he certainly has a point.
However, Zesco travelled from Zambia to South Africa by bus – comparable to a Cape Town to Johannesburg trip – and still looked fit and fresh.
Their physicality in defence and individual quality in attack were highly impressive and their tactical setup, plus coming into the second leg with a healthy lead, allowed these attributes to be maximised.