PSL
I'm thinking of moving Cape Town City to Durban and renaming it Durban City FC, says John Comitis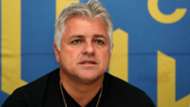 Cape Town City boss John Comitis admits that he is considering moving the club to Durban due to his dissatisfaction with the City of Cape Town.
It was recently revealed that the Citizens would move their upcoming fixture against Maritzburg United on Tuesday evening to the Princess Magogo Stadium after the City failed to provide the Mother City-based outfit with an adequate venue.
However, this has certainly not gone down well with many at the club. On Thursday afternoon, City coach Benni McCarthy issued a scathing letter to the Municipality critiscing the way football is treated by the authorities in the Cape, and now City's chairman is the latest to add his voice to the saga.
This isn't the first time that the club have been embroiled in a dispute with the City, and according to a furious Comitis, the club could consider relocation if this continues.   
"I have risked my fortune with Cape Town City FC and I'm getting nowhere," Comitis told SunSport.
"I'm thinking of moving the club to Durban and renaming it Durban City FC. Chippa United moved from Cape Town to PE and East London – and now I understand why, as they get the backing of the city councils.
"It's costing me R250 000 to fly my team to Durban. I had no option but to play in KZN, or it would have cost me another R500 000 to fly Maritzburg to another venue. We have been forced into exile," he added.
Meanwhile, Comitis states that he is willing to spend R200 million of his own money to find a permanent home for the ambitious club, but cannot do so without the help of the City.
"I need land and the council to help me," he stated.
"We take two steps forward and five steps back. There is a ray of light in the form of the deputy mayor, Ian Neilson. But there are so much red tape and obstacles in our way," he concluded.