Barcelona
'I'd jump off a bridge for him' - Rakitic fully behind Luis Enrique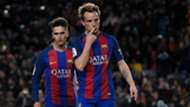 Ivan Rakitic's working relationship with Barcelona boss Luis Enrique has fallen under the microscope of late, but the Croatian insists he remains fully committed to the Camp Nou cause.
In fact, the 28-year-old midfielder says he is so supportive of the man who brought him to Catalunya that he would throw himself off a bridge if asked to do so.
For now, Rakitic's sole aim is trying to convince his manager that he is deserving of a regular spot in his starting XI.
'Messi and Ronaldo are both beasts'
He has been favoured since the winter break, but endured a tough period during December when he was dropped for three games on the back of being hauled off in a Clasico draw with Real Madrid.
Rakitic has also been caught up in speculation regarding his long-term future, with discussions regarding an extension to a contract due to run until 2019 said to have stalled.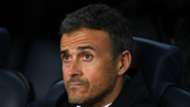 Luis Enrique has not always taken kindly to quizzing on the issue, telling reporters prior to Christmas: "I've got no interest in justifying myself to a player of mine. I'm not going to do that. Rakitic has been and will be a good player for Barca."
While the pair may not have always seen eye-to-eye this season, Rakitic maintains that he will continue to give his all to a manager who placed considerable faith in his ability when snapping him up from Sevilla in 2014.
Luis Enrique: I don't have to justify myself
He told France Football: "Luis Enrique has helped me enormously, giving me confidence straight away, as did my teammates, which enabled me to work calmly.
"It was Luis Enrique who asked the club to sign me.
"If I had to throw myself off a bridge for him, I would do it without hesitation. With just a look or a smile, he gives you the confidence necessary to succeed."
Rakitic needed a calming influence after arriving at Camp Nou, as he found himself thrust into a star-studded squad.
He was also billed as the long-term successor to Barcelona icon Xavi, but the Croatia international says the World Cup winner helped to make that transition seamless, rather than daunting.
Xavi: Messi will sign new deal
Rakitic added: "Xavi gave me a lot. I have just two words to say to him, it would be 'Thank you'. The only thing I regret is to have played just a single season with him.
"I learned so much from on and off the pitch, during our away trips, in the dressing room. I took advantage of every moment by his side during that season. What Xavi gave this club, his teammates and the fans is unique."