Sweden v Belgium
Ibrahimovic to retire from international football after Euro 2016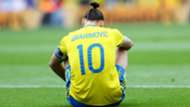 Zlatan Ibrahimovic has announced that he will retire from international football following Euro 2016.
Sweden play Belgium on Wednesday in what could the former PSG striker's final game for his country, with the Swedes currently on one point, two points behind their opponents, who occupy second spot in the group.
And speaking to the media ahead of the game, Ibrahimovic said: "The last game of the Euros will be my last game with Sweden. I will not participate in the Olympics.
"So my final game of the Euros will be my last. So let's hope it goes as long as possible. I hope that tomorrow will not be my last game. But I don't have any regrets.
"There is no disappointment. I'm very proud to be the captain of Sweden.
"I want to take this moment to thank the fans for always supporting me wherever I go, I will always carry the Sweden flag with me and stand with it."