Chapecoense
'I was subjected to harassment' - Bolivian aviation official reveals Chapecoense plane crash cover-up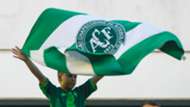 Celia Castedo, a Bolivian aviation official, has revealed that she was "harrased and pressured" into covering up the truth behind the Chapecoense airplane crash which killed 71 passengers and injured six others.
What really happened to Chapecoense's tragic flight?
Ms Castedo told Bolivian media that she had previously warned that the plane did not have enough fuel to reach the intended destination in Medellin, Colombia, where Brazilian club Chapecoense were travelling to to face Atletico Nacional in the first leg of the Copa Sudamericana final.
The plane crashed into a mountainside near the city, with the pilot, Miguel Quiroga, claiming a "total electric failure" and "lack of fuel".
Castedo, who was working in air traffic control, said that, instead of authorising the flight, she had tried to stop it but the authority was with Bolivia's civil aviation agency, and has accused superiors of a cover-up.
In a letter, Castedo wrote: "I was subjected to harassment and pressure from my superiors [...] who ordered me to change the content of the report which hours earlier [before the flight] I had presented.
"Based on a careful examination, I had made five observations, one of the most important of which referred to the fuel economy of the flight, which happened to be equal to the flight time."
Chapecoense need your help to survive
Chapecoense were later awarded the 2016 Copa Sudamericana title and, with it, a place in next season's Copa Libertadores and Supercopa Euroamericana, while Atletico Nacional were rewarded with a fair-play award.
Bolivian authorities have arrested Gustavo Vargas, the chief of the airline involved in the crash, while Castedo is now reportedly seeking asylum in Brazil.