Leicester City
'I shed a tear for Ranieri' - Lineker blasts inexplicable Leicester sacking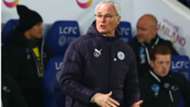 Gary Lineker has revealed how distraught he is by Leicester City's decision to sack Claudio Ranieri, saying he "shed a tear" for the Italian coach on Thursday night.
Leicester announced that they had "reluctantly" come to the decision to sack the manager that led them to the Premier League title last season.
Ranieri had overseen a dismal run of form in the league that sees Leicester placed one point above the relegation zone with 13 games to play.
Desperate Leicester had to sack Ranieri
The poor results this season were particularly magnified given that Ranieri had sensationally guided Leicester to the title last term, earning admiration across the world and confounding critics.
However, the achievement of winning the league against the odds also makes the Foxes' decision to relieve the 65-year-old of his position harder to understand for many, including Lineker.
"I shed a tear last night - I shed a tear for Claudio, I shed a tear football and I shed a tear for my club," the former Leicester striker told BBC Radio Four. 
"It is inexplicable to me, it's inexplicable to a lot football fans who love the game.
"And I suppose you can explain it in terms of a panic decision, but for me [it was] a wrong decision and it is very sad."
Leicester will begin life after Ranieri with a home game against Liverpool on Monday February 27 as they look to turn their season around.
Former Manchester City and Inter coach Roberto Mancini has been linked with the vacant position by Sky Sports.