Mexico
'I never imagined' playing in Champions League - Lozano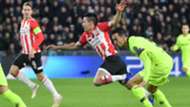 PSV and Mexico star Hirving Lozano says he never could have imagined taking part in matches like Wednesday's Champions League clash with Barcelona.
The 23-year-old has been linked with moves to some of the world's biggest clubs but said when he was a child his dream was simply to make it as a professional in his home country. 
Having reached that goal, the El Tri winger is now focused on bigger and better things.  
"I never imagined so much. The first thing that comes to your mind at that age is to play in the first division. My goal was to play in a stadium, as a professional, and thanks to God I achieved that," he said at a news conference Friday. "Little by little more goals come to you, and I'm always trying to get better." 
Lozano and PSV fell to Barca by a 2-1 scoreline this week and have just one chance left to pick up a Champions League group stage victory, traveling to Milan to face Inter on Dec. 11. Despite the reigning Eredivisie champions not finding the results, Lozano said playing in a group with Barcelona, Inter and Tottenham Hotspur has been enjoyable. 
"The first time I heard the Champions League hymn, it really made an impression on me. It's really beautiful to play in this tournament," he said. "We got into a tough group, but we enjoyed it a lot." 
Lozano may have expected to be part of the competition after helping PSV to the Dutch title, but for club and country teammate Erick Gutierrez it came as a huge shock. He started the season with Pachuca before an injury to a summer signing and moving into the Champions League group stage motivated PSV to make a late move for the midfielder. 
Suddenly, he was being put into Champions League matches as a substitute and being asked to close down Lionel Messi, with a pair of appearances against Barcelona in the competition and another appearance against Spurs. 
"I was playing in the Mexican league and I never expected to face [Messi] in a tournament like the Champions League. Maybe I hoped to face him with the national team, but not in the Champions League," Gutierrez said. "At PSV, a dream come true for us to be able to play against a player that's the best in the world. Sometimes you try not to see him like that on the field, but suddenly you see him again because he's a really smart player. They're moments that mark your career." 
While PSV won't be moving to the Champions League knockout round, the Dutch side is on track to return next year. The club has won 13 of 13 league matches ahead of a Sunday contest against third-place Feyenoord.