I-League
I-League: Chennai City's Robin Charles – We missed Karanjit Singh and Haroon Amiri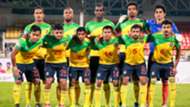 Chennai City went down 2-0 to DSK Shivajians on Tuesday evening as the I-League debutants find themselves in the bottom half of the table with just a point from three games.
The southern club were missing the services of Karanjit Singh, who has been their standout performer in the previous two matches.
January transfer window: The major confirmed deals
"We missed Karanjit and Haroon Amiri. We were not able to hold the ball up top and we also missed chances. I couldn't see the second goal. It made the difference. We need the foreign stars. We need to get it sorted," said Robin Charles, coach of Chennai City FC.
"I wanted to attack with two strikers. I felt like (Malsawmfela) Fela would do the job, but he couldn't," he mentioned.
He believes that his players haven't had the time to gel as a unit given that the team was formed only days before the commencement of the premier division league of the country.
Costa, like Ronaldo and Rooney, can make his own mind up - Scholes
"When you compare us to others, everyone has a good team. DSK source players from the academy and they have players who have been here for long. So they have been able to gel. We're taking one game at a time. We'll bounce back," he signed off.