I-League
I-League 2017: Santosh Kashyap responds to Mumbai FC fans' ire: 'I respect it and I clapped for them'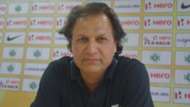 Mumbai FC, the hosts of an I-League round 11 encounter versus newbies Minerva FC, were forced to share the spoils with their visitors in a goalless affair on the evening of Sunday, 26th February, at Cooperage stadium.
This was The Mumbaikars' third consecutive draw which keeps them winless in nine games.
Head coach Santosh Kashyap was content with the performance despite the less-than-satisfactory result. The 50-year-old reckoned the home side were in control of the game.
''I'm not frustrated with the performance. I believe I prepared the team perfectly. We almost dominated the game throughout the 90 minutes. They (Minerva Punjab FC) played in pure Punjabi style - kick and rush football,'' he stated undithered, in the post-match press conference.
Pressure mounts on Kashyap after drab draw against The Warriors
The drab draw meant The Yellows are now confined to eighth position in the table, with just nine points. The disappointing results led to concerns of relegation battle but the manager denied it. Kashyap seemed confident on avoiding relegation comfortably as he commented, ''I'm confident on avoiding relegation and I say this from my past experience. I don't think Mumbai FC is such a bad team, the lads are improving day by day.''
Further, he discussed how not just the Maharashtra outfit, but fellow sides are also undergoing a downfall. He explained about the woeful run of The Blues of Bengaluru and the Loni-based side, DSK Shivajians.
''Teams like Bengaluru FC and DSK Shivajians, who have a better set-up than us, are also struggling in the league. It's a competitive league where any team can beat any opponent on any day,'' he expressed.
The former Royal Wahingdoh coach believes that except for the corporate teams and top three sides, every other side is at the risk of relegation. ''I think the bottom six teams (on the table) are open to relegation, and it includes Bengaluru FC. Three teams are free from relegation. Let's leave out East Bengal, Mohun Bagan and Aizawl, all others stuck on 13-to-16 points are vulnerable to relegation,'' he disclosed.
Santosh Kashyap branded a 'snake' by Mumbai FC fans
Following a displeasing streak of results, fans of the club were in rebellion against the former Salgaocar gaffer. Kashyap was given an intimidating reception as the crowd hurled abuses at him. However, the ex-Mahindra United U-21 boss seemed unaffected by the words. He claimed that the supporters' bitterness is justifiable and accepted the resentment.
''Football is a game of opinion. When Mumbai won two games the fans chanted, 'Santosh Kashyap ki jay ho' (meaning ''All hail Santosh Kashyap"). Now they are angry and I have to accept it and respect it.''
#SNAKE #SANTOSHOUT @atulb1401 @AmitGoenka_ #SAVEMUMBAIFC pic.twitter.com/4dfUxj8XbQ

— Yellow Brigade (@_YellowBrigade) February 26, 2017
''I believe, as a professional coach, Mumbai is an entertainment hub which includes malls, movie theatres, music shows, etc. And these guys, despite the six losses, chose the option to support us for 90 minutes. So, it's my responsibility to give them back something. It takes a lot of courage and energy to shout for 90 minutes for anybody, either in positive or negative,' he further opined.
''I know the fans are hurt by the results, I can understand their frustration for the losses. I respect it and I clapped for them. I hope things are improved,'' added the Quinquagenarian.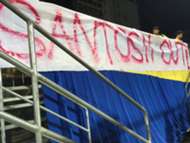 Talking of the miserable condition of results, Kashyap revealed that he has never undergone it before. Also, while explaining so, the boss disclosed about the release of three players viz. Steven Dias, Pratik Choudhary and Allan Dias, all of whom have been released by the gaffer for underperforming.
''I have never lost six games in a row as a coach or as a player. Also, I have never ever sacked any players, for the three players - again the blame goes to me. I treat my players as kids. I blast at them, I take care of them, I motivate them. I do the same at home with my own kids,'' he explained.
Further, he unfolded that some mistakes can be rectified at times but he can't confirm the same at Mumbai FC. ''(This is) just like how parents are not always wrong, it's the children at fault too, at times. But that doesn't mean you disown the children. You try to improve them by correcting their mistake and bringing them back. But here (at Mumbai FC), I can't say if such can be the case,'' he mentioned.
Aizawl's Khalid Jamil satisfied with Kamo Bayi's performances
Kashyap, while heading home after a goalless draw against Albert Roca's Southern Eagles, apparently remarked ''Minerva (Punjab) se haare toh football chod dunga!" (meaning if we lose to Minerva Punjab, I shall quit football), which was overheard by a journalist. On being questioned about the quote post 0-0 result against The Warriors, the former Indian international wrote it off as a 'humour'. He stated that he uttered those words in 'the heat of the moment'.
''I must have said that as a joke. It happens in anger. It has happened casually, don't take it seriously,'' said the Himachal-born former Indian international.
RE-LIVE THE ACTION- Mumbai FC 0-0 Minerva Punjab FC
Lastly, Kashyap claimed that strikers are poor at finishing chances and this is due to their fitness concerns and this is hampering their goal scoring flow.
''We are depending on Anderson (Silva). He is improving, but the demand is high and there's no time. He isn't fully fit and neither is Alex (Willian Silva). Since all of this (injury concern) is happening during the season, it is affecting us. Had they arrived with full fitness, they would have netted goals in full swing,'' he concluded, lamenting his striking predicament.