I-League
I-League 2017: Fault-Lines: Mumbai FC's downfall decoded
"You will see attacking and attractive football from Mumbai FC," these were the words of Mumbai gaffer Santosh Kashyap at the start of the 2017 edition of India's top-flight league.
Fast forward a month and the picture isn't as rosy as it is turbid.  The Yellows languish in sixth on the table with an unwanted record of five back-to-back defeats. So, where did it all go wrong for the Essel Group-owned outfit?
Their 50-year-old gaffer Kashyap, appointed as the manager of Mumbai's only I-League team prior to this season, had taken over from now Aizawl FC coach Khalid Jamil, who often flirted with relegation during his seven-year stint. He sought to indent an attacking philosophy to the Maharashtra-based outfit, channeling his efforts with the Royal stags of Wahingdoh. 
Kashyap's army started their season on a positive note with consecutive wins at home and in Goa respectively. The former Mahindra United U18s boss went in with an all Indian squad for both the games but they flattered to deceive.
Silvestre warns Martial against 'doing a Pogba'
The downward spiral began from the third tie onwards. The 3-0 defeat at the Kanteerava stadium to Bengaluru FC was a trigger for Mumbai FC's collapse.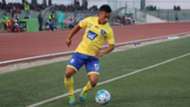 Despite possessing the likes of Pratik Chaudhary and Reagan Singh in their ranks, the defensive wall wasn't solid enough to stop The Blues' attacking forces. And their defensive woes were to exacerbate. Kashyap refined and opted for a four man and even a five man defence (against East Bengal) to plug the leak in his defensive set up.
The attempted plumbing to his defence paid no dividends however, with the side's free-fall continuing. They have so far conceded 12 goals, the second worst defensive record in the league, after Minerva FC.  
I-League Team of the Week: Round 7 - East Bengal and Mohun Bagan ride high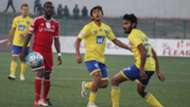 Not only is their defence sloppy but their attack is seemingly mediocre too. Hitesh Sharma was often deployed as a number nine in the absence of a proper centre-forward. This didn't turn out well, which was hardly surprising. The youngster wasn't provided support from the midfield which also contributed to a below-par show from Sharma. However, when shifted back to his primary number 10 role, Hitesh did wonders.
Karan Sawhney was another forward who seemed impressive when brought on as a substitute in several games. The 24-year-old struck thrice in three away games, including an injury time winner against The Red Machines. However, when included in the starting eleven against Minerva Punjab, the former Bengaluru striker failed to replicate his electrifying performances from the bench. 
Furthermore, in order to add some spark in their misfiring attack, the Maharashtra outfit signed Brazilian midfielder Robson Chaves Santana and ex-Dempo player Densill Theobald. The Trinidadian had a dull start and has yet to gel in midfield. Brazilian Robson was named in the first eleven in the tie against Meghalaya side Lajong and he failed to impress. The central attacking midfielder was wasteful in front of goal and was guilty of heading wide one of Thoi Singh's perfect deliveries from close range. The foreign duo has, so far, failed to add impetus in the attack, in all sense.
I-League 2017: East Bengal's six consecutive wins and the statistics after Round 7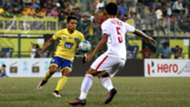 The Mumbaikars have often tried to create chances from the middle of the park but have been let down due to profligate finishing. 
Kashyap has a lot to work upon in this Mumbai side, starting from knowing his own set of best eleven. The former Indian international has picked up a new combination in each fixture which only leads to the conclusion that the manager is yet to decipher his best set. Lack of a clear gameplan and awry tactics from the former ONGC boss led to a 2-1 loss against Minerva Punjab, a side which took six games to register a goal but comfortably pegged two past Kashyap and company.
Albert Roca - Shivajians deserved to win against Bengaluru FC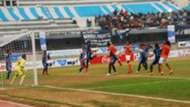 The manager's anguish could come to an end as soon as the solidity of the defence and the quality in attack is enhanced. Mumbai FC need a match winner badly - somebody who can take half-chances or help close out a game, like Aser Pierrick Dipanda for Shillong Lajong or Wedson Anselme for East Bengal. Kashyap needs to sign such a player or inspire someone from his current side to step up his game. 
The club already finds itself mired in a relegation crunch as their hopes of fighting to be in the top three seems to have gone up in the air again. Can Kashyap save Mumbai from dropping more points?