I-League
I-League 2017: Gokulam Kerala coach Bino George hoping for good football amidst injury crisis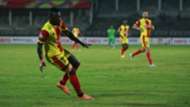 Gokulam Kerala FC are all set to head into their second home game in I-League, this time against new entrants Neroca FC at the EMS Stadium in Calicut on Saturday.
Coach Bino George is caught in the middle of an injury crisis to his foreign players. He confirmed that star forward Kamo Bayi will face a late fitness test to be eligible for tomorrow's game.
"Out of five foreigners, four will play. Kamo Bayi's situation is problematic since he has an issue with his ankle. We will only get an update by tonight. Chigozie will not play."
Neroca FC lost to Minerva Punjab in their previous game after having taken an early lead. Bino believes that both teams are on the same level and is expecting a good game tomorrow.
"They are a well-set team. They have only made a few changes from their previous season. I had watched their last game. We respect our opponents. Both teams are on the same level and hence, it will be a good match tomorrow."
Afternoon kickoffs have come under criticism this season and Gokulam Kerala's coach also lamented the decision to schedule games under the scorching sun.
"2 pm kick-off will take a toll on the players. But we have to accept AIFF's rules. We are 100% concerned that attendance will be lower due to the afternoon kick-off. It is not easy to sit under the sun at that time and watch the game. It is a factor but I'm hoping that good football will have its support," hoped Bino George. 
Neroca FC head coach Gift Raikhan also expressed the same concern regarding the afternoon kick-off but is prepared for the upcoming challenge.
"We lost against Minerva, it was a very close match. We scored first and then they scored two. We dominated. We know our strengths. Minerva are a good side that's why they are top now. We need to play well. We are prepared."
"If you really think about players, they are suffering [due to 2 PM kick-offs]."