I-League
I-league 2017: Paulo Meneses - We deserved the three points as we controlled the game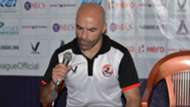 Aizawl FC bagged all the three points when they took on Churchill Brothers at the Rajiv Gandhi Stadium in Aizawl on Wednesday, thanks to a late winner from Yugo Kobayashi. Coach Paulo Meneses was happy with his team's performance as they were the dominant side throughout the game.
"We controlled the whole game. We tried to score. We created five to six chances. We deserved the three points because I don't remember any good save from our goalkeeper," said Menezes. 
William Lalnunfela was surprisingly not included in the squad and Meneses revealed that he has suffered an ankle injury. "Today morning he tried to jog and then he told me that he felt some pain, so he was out of the first XI."
David Lalrinmuana also had to be replaced early in the game and the coach confirmed that he was feeling a niggle in his hamstring.
Meneses was furious with the level of refereeing in I League as he felt that his side was robbed of two penalties today and argued that Lalmuankima was fouled in the box.
"We have asked our players to be fair and serious. After the match I asked MK and he confirmed that yes coach it was (penalty). Against East Bengal, we have committed 9 fouls, five players got booked, they committed 19 fouls they got one yellow card. I don't know," fumed Menezes.
The Portuguese coach did not seem too worried about the goal drought of his strikers but insisted on teamwork and cumulative effort.
"Before the game, I told them to work for the team. If you score good, but the most important thing is the team must win. We work as a lot to help the team. Of course, the strikers need to score, but we do not care who scored today or tomorrow, as we focus on teamwork and the most important thing is Aizawl FC the team," concluded Menezes. 
On the other hand, Churchill coach Alfred Fernandes was disappointed that his side could not hold on for four more minutes. "We could have still come out with a point in the normal time. So I am disappointed. It was just 4 minutes," said Fernandes.
Churchill has another away game against East Bengal and Fernandes hopes that his team will pull up their socks and put up a good performance.
"There are a lot of instances before of teams coming up from more awkward positions to giving good performances. I know we have won the I league four-five years before and then we were not even in the picture of winning it."
"Today there were a lot of chances missed but still, we stayed together. We can't see when the graph will change. Another game we will be playing away and hopefully, by that time we can play better," stated Fernandes.
The visiting coach praised Aizawl FC's fans and their facilities but did not want to comment on the pitch.
"Pitch I cannnot comment. We played last year in the same pitch and this being a hilly region we don't expect to get natural grass here, whatever is there is good, the facilities are good here and fans are also very good. It's all about fans supporting their home team and even in Goa, Aizawl fans take tickets from us but they support Aizawl (laughs). A lot of Mizo people are working in Goa. Last match also they came in big number in Goa specially supporting the Aizawl team but that's good."
While Aizawl will play Shillong Lajong next at home in the North East Derby whereas Churchill Brothers will return to Kolkata to face East Bengal on December 16.