I-League
I-League 2017/18: Minerva Punjab's Indian contingent rises to the occasion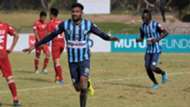 Minerva Punjab coach Khogen Singh's press conference in Panchkula, immediately after becoming the I-League champions, was repeatedly interrupted by celebratory drum beats. Amidst all the brouhaha, one name was heard loud and clear.
"Sukhi (Sukhdev Singh) is the backbone of our team. He has been consistent throughout the league," said Singh, when questioned about the most steady performer for Minerva. The 26-year old defender from Hoshiarpur built a formidable partnership at the heart of defence along with Ivorian Eric Dano, conceding only 16 times in 18 matches, just three more than Mohun Bagan who tops the list of least goals scored against.
With both wing backs surging forward often, Sukhdev showed excellent positioning to shore up the defence and cut down spaces. The sturdy defender with a dominating physique likes to stick tight to strikers. Although he makes at least nine tackles a game, he is precise and disciplined with his challenges as he has committed only 10 fouls in his 18 appearances. His long throw-ins into the six-yard box became another potent set-piece weapon in Minerva's armoury.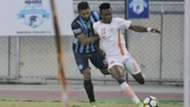 Kamalpreet Singh, the young right back of AIFF Elite Academy, has been another revelation for Minerva Punjab. The 20-year old wing back from Ludhiana has pace to burn on the flanks and is never afraid to go on the over-lap. Assured by the triumvirate of Sukhdev-Dano-Aidara, he was allowed the freedom to bomb forward at every opportunity, adding another dimension to Minerva's attacks. 
Whenever Minerva had possession, Kamalpreet would be seen in advanced positions, unlike an orthodox right-back. His inch-perfect crosses targeting Chencho Gyeltshen inside the box were a common yet lethal attacking facet for Minerva. it must be noted that he has suffered more fouls (13/8) than he has committed speaks volume about his attacking instincts. He has already donned the U-16 and U-19 national jersey and his next target must be to break into the U-23 national team.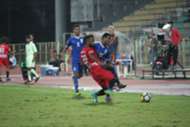 The 26-year-old Abhishek Ambekar from Mumbai was part of the Air India and Mumbai FC squads in the past. 
His partnership with Chencho on the left has been brilliant. When the Bhutanese winger cuts inside from the left, Ambekar takes up a wide left position up the field which helped Minerva stretch the opposition. He has provided three assists, the most by a defender in this season of the I-League. Once again, like Kamalpreet he has suffered more tackles than committed which explains that Minerva's wingbacks have contibuted to their attacking gameplay. 
Players like Akash Sangwan, Gagandeep Bali and Moinuddin Khan have also made vital contributions to the team. While Sangwan and Khan have chipped in with crucial goals in important fixtures, Gagandeep has been a work horse for Minerva, having been deployed in various positions in attack and defence. His physical stature has helped Minerva while defending numerous set-pieces as his aerial prowess has come to the fore.
The 27-year-old was never shy of dropping back when Minerva lost possession and helped his skipper Kassim Aidara in mopping up the loose balls in midfield.
Head coach Khogen Singh was insisting on team work after Minerva won the league and said, "There are no Africans or Indians as we perform as a team."
It will be unfair to pass on all the laurels to the overseas players like Chencho, Aidara, Dano and William Opuku, as although they have been the principal architects of Minerva's success, Khogen's concept of a team would have fallen flat on its face without the equally brilliant performances of the Indian players.