I-League
I-League 2017-18: Sankar Lal Chakraborty - Aim maximum points, leave rest to God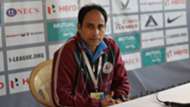 Mohun Bagan have had a whirlwind 2017-18 I-League. From a change in manager after a four-match winless run to now, on the cusp of lifting the title after three years. All they need is a win at Gokulam Kerala, a loss for Minerva Punjab and for NEROCA FC to drop points on the final day.

"This match here will be the toughest out of the three. We have to beat Gokulam, which is a very good side," Bagan head coach Sankar Lal Chakraborty said drawing comparisons to the two other games that kick-off simultaneously at 3 PM.

"I always tell the players that do not go for the championship. Go match-by-match and it is the same for tomorrow (Thursday). The aim is to win maximum points. Then God knows what is the situation. If you play or coach at a club like Mohun Bagan, there will be pressure. All over the world, the big teams have pressure," he added.

The match initially scheduled for 6 March was postponed after Mohun Bagan's win at Churchill also meant they had a chance at winning the league. "After the Churchill match within half an hour, we got the news that the match is postponed as we are in the race of the title. We also got news that the Minerva match cannot be played under floodlights so we have to play in the afternoon," he said ruing about the heat during matches in the afternoon.

Gokulam Kerala had beaten the Green and Maroon side 2-1 in the first meeting earlier this season but Chakraborty did not see it as a shock defeat. He said, "We are not surprised. When Gokulam beat us at home, the press and supporters expressed that it is unfortunate that Mohun Bagan lost. But, they are one of the best teams in the league.

"After they beat us, they beat East Bengal and Minerva. They beat all the championship contenders. That means they have the potential.  They have a very good defence. They are a very young side and now are in a very good condition. Winning matches have put them in good stead."

The coach also believed that there will be a large number of travelling supporters to egg Bagan on at Kozhikode. "Fans motivate you wherever you play. A lot of Mohun Bagan fans work here and I expect them to come. In the olden days, Bengal, Punjab and the South were where football was appreciated and this year, you have Gokulam here from Kerala which is good for Indian football."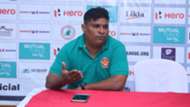 Chakraborty's counterpart Bino George also mentioned that the afternoon kick-off will be one of the key factors. "Tomorrow's match is very important. Heat will affect both teams."
"A win is must for us tomorrow to play Super Cup (main tournament). It is a super climax in the I-League. Relegation battle for Churchill, super six battle for Gokulam, a total of four teams playing fo the title," he added.
When asked about the previous win against Mohun Bagan, Bino replied, "We do not talk or think about previous matches, our concentration is on next match. Bagan is a big team according to us, good Indian players with quality foreigners in (Aser) Dipanda and (Cameron) Watson, but for us, we play with our heart especially tomorrow's game. When a big team fears us, it gives us a lot of happiness."
"We are very well prepared, all of them are fit, Arjun Jayaraj is the only concern maybe in the squad right now. Arjun Jayaraj is the gold of our team," the coach praised his team's disposition along with the midfielder.
Lastly, he took a parting dig at
Kerala Blasters
, the
Indian Super League
(ISL) franchise from Kerala. "Some people travel to Kochi to see movie stars, not the football match. People who come to Kozhikode to watch Gokulam Kerala are pure football fans. Majority of the fans going to watch Kerala Blasters play are from the Malabar region. They don't have to travel that much, tomorrow we have a game in Calicut. If they come here as the 12th man and cheer when Arjun or Rashid gets the ball, it will be one of the biggest achievements that the players can get in their life," Bino concluded cheekily.