African All Stars
I have to give credit to Oscarine Masuluke, says Cristiano Ronaldo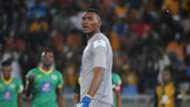 Oscarine Masuluke became the first African to be among the chosen three vying for the illustrious Fifa Puskas Award, but while he may have eventually lost out to Arsenal forward Olivier Giroud, he will take some consolation from knowing that he would have been Cristiano Ronaldo's preferred choice for the award.
Speaking at the 2017 Best Fifa Football Awards gala in London on Monday, the Real Madrid star heaped praise on the Baroka FC goalkeeper, and stated that while Giroud's sensational goal against Crystal Palace was great, Masuluke's acrobatic strike deserved of the award in his opinion.
"I like Olivier Giroud's goal, but I have to give credit to the goalkeeper. He (usually) never goes forward and he tried an amazing goal, too," Ronaldo said during the FIFA awards gala where he was eventually named as Best FIFA Men's Player later that evening.
"Both (goals) I think were great. It had to be the goalkeeper, with the bicycle kick. Incredible goal and celebration as well," he added.
Although, Masuluke won the approval of the Portuguese icon and several other legends of the game for his extraordinary strike, Giroud went on to grab 36.17% of the 792 062 votes casted, while Masuluke came in second as he received 27.48% of the votes. The third nominee was Venezuela's Deyna Castellanos, who could only register 20.47% of the votes.