African All Stars
'I have improved,' Eric Bailly assesses his first season in Manchester United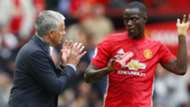 Eric Bailly summed up his first season with Manchester United as an excellent one which has seen him improve.
Bailly credited Jose Mourinho for his personal improvement since he arrived at the Old Trafford from Villarreal in 2016.
The 23-year-old who has been a pillar in the heart of the Red Devils defence admitted that he has developed in his tactical and physical play, and hopes for better improvement in the coming season.
Bailly will miss United's Uefa Super Cup final against Real Madrid on August 8 and their first UEFA Champions League game following the extension of his ban when he got a red card in the UEFA Europa League semi-final.
"In my time at Manchester United and with the help of the manager, I have improved," Bailly told MUTV.
"One thing I have learned is to improve my tactical play, my physical play has changed too and I hope to continue to improve."