Hugo Broos
Hugo Broos unsure of future as Cameroon head coach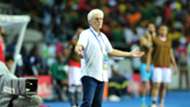 Hugo Broos admitted that he is uncertain about his future with the Central African country after seeing a leaked statement about his sack from the Cameroonian Football Federation.
The former Trabzonspor and Club Brugge boss led the Indomitable Lions to their fifth continental success by winning the 2017 African Cup of Nations in Gabon earlier this year.
Following his refusal to take up residence in Cameroon and inability to lead the Central African nation to the 2018 World Cup in Russia after garnering just seven points from six games, he was informed by his friend about a leaked statement from the country's football body and now awaits Cameroon's sports minister, Pierre Ismael Bidoung Mkpatt to make the final decision on his appointment on December 15.
"I don't know now what will happen," Broos told BBCWorld Football.
"I'm waiting now, this is something that is not serious, it's something to laugh [at], it's a soap, what happens now in Cameroon.
"What we did in Gabon was something unique.
"So if we now had to prepare for the Afcon 2019, there have to be some changes in the team - we have to look for other players, I have to look for better players.
"It's a very difficult situation because they fired me - so if the minister decides tomorrow that he goes on with me as the coach, I will have to work with a board who is against me.
"I put a deadline for the 15th of December, I had a meeting with the minister and I told him I couldn't go on like this because it is not only the signing of the contract but the salary.
"The cost of scouting because me and my assistant did many trips across Europe to watch the players so we advance the cost and we put everything on the Cameroon's Federation but till now they have not paid us.
"It is something they have to do, like I told the minister if those things are not in order before the 15th of December, I think we have to finish."