Houston Dynamo
Houston Dynamo lose defender DeLaGarza for playoffs with ACL injury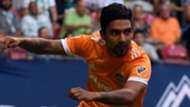 The Houston Dynamo will have to navigate the MLS postseason without defender A.J. DeLaGarza after he was revealed to have torn the anterior cruciate ligament (ACL) in his left knee.
The Dynamo announced Tuesday that DeLaGarza had undergone an MRI which confirmed the diagnosis and that surgery was expected to be performed in the coming days.
DeLaGarza suffered the injury in Sunday's regular season finale against the Chicago Fire, coming off in the 13th minute of a 3-0 victory which saw the Dynamo move up to fourth in the Western Conference.
The defender joined Houston last offseason after spending the entirety of his MLS career with the LA Galaxy. 29-year-old DeLaGarza started 30 of Houston's 34 games this season and added three assists from the right-back spot.
There is no timetable for DeLaGarza's return.
After a three-season absence from the postseason, the Dynamo will return Thursday when they host Sporting KC in one of the Western Conferences' two knockout round contests.