Lion City Sailors
Home United's win over Persija proves there is still light at the end of the tunnel for Singapore football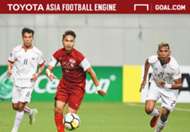 At a time when Singapore's football is at a low ebb, Home United happen to be a on a high especially after their resounding 6-3 aggregate win over Persija Jakarta in the AFC Cup Asean zone. It was a commanding win from The Protectors to send them into the finals of the competition while providing Singapore football with a bright spot.
More importantly this victory signalled that there is still a fighting spirit within Singapore football that has not been summoned regularly. Make no mistakes about undermining the greatness of Home United's monumental achievement, especially when playing in the hostile and raucous atmosphere that is the Gelora Bung Karno Stadium.
This majestic footballing stadium has never been kind to opponents. Moreover with the cavernous stadium's 70,000 plus capacity, it is easy for players to be cowed into submission even before the game begins. But for The Protectors, it was an altogether different story once they got their confidence flowing. Captained by midfield maestro Izzdin Shafiq, the Singapore based side showed finesse and fitness throughout the 90 minutes to get the job done, while being impervious to the atmosphere and antics of the opposition.
Home United coach Aidil Sharin must be given credit here. Before the game, he urged his players to not be intimidated by the atmosphere but to be inspired by it. Additionally he specifically told his team to focus on their game plan and to play well. Playing well he believed was vital because people from home will be watching and the team had a duty to not disappoint them.
Instructing them to wear their pride out onto the pitch was a masterstroke in man-management skills. The Protectors got off to a slow start but soon settled and played adventurous football. And soon enough they were rewarded with veteran Shahril Ishak's early double in the sixth and 12th minutes. It got better for them when Persija's Brazilian defender Jaimerson da Silva was sent off after a second bookable offence in the 37th minute. Consequently it allowed them to capitalise with a third goal through Song Ui Young just before half-time.
For Aidil this win will be for Home United to cherish after all the hard work they have put into their preparation to reach the finals of the competition. But in the broader context this win extends beyond that sphere. No, this is a win for Singapore football and its fans. It is a victory dipped in sweetness that has long been absent from Singapore's footballing scene. There is no doubt that the victory will help to alleviate some of the doom and gloom. But in order for the nation's football to improve, the people who are involved must follow in the footsteps of Aidil and his charges. The hope is that they will feel a sense of inspiration from this result and will want to emulate his positivity by believing in the impossible, because right now Aidil is the ideal man.