Egypt
Hector Cuper not worried about Salah missing Egypt's World Cup opener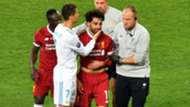 The Liverpool star forward picked up a shoulder injury when he was seemingly wrestled to the ground by Real Madrid captain Sergio Ramos in last weekend's Uefa Champions League final.
Fears that he could be out of the World Cup heightened as a teary Salah left the match in the first half.
But both Liverpool and Egypt doctors have allayed fears of Salah missing the tournament, saying he will not exceed three weeks on the sidelines.
This leaves Salah racing against time to be fit for Egypt's meeting with Uruguay on June 15 which comes a little before three weeks.
Cuper is however trying to appear unperturbed by the state of affairs, playing down the possibility of battling Uruguay without his star striker.
"After Salah's injury I am still optimistic ahead of the 2018 World Cup finals," Cuper told the Egyptian Football Association (EFA) official website.
"Injuries are an ordinary thing in football, but we are bidding on the players' ability of passing such difficult moments."
After facing Uruguay, Egypt play hosts Russia on June 19 and conclude their group fixtures against Saudi Arabia six days later.
Salah's influence in the Liverpool team has equally seen him as the heartbeat of Egypt as he finished the qualifiers to Russia as Africa's top-scorer with five goals.
That included a dramatic injury time penalty which salvaged a 2-1 win over Congo Brazzaville to send the Pharaohs to the World Cup for the first time in 28 years.
Egypt are set to continue their World Cup preparations without Salah when they play friendly matches against Colombia on Friday, and then Belgium on Wednesday.