Ousmane Dembélé
'He must be more attentive' - Deschamps issues Dembele warning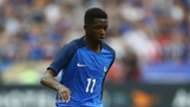 Didier Deschamps has warned Ousmane Dembele that he must improve his work habits if he is to get back on track at Barcelona.
The 21-year-old was not in the squad for Barca's shock 4-3 defeat to Real Betis at Camp Nou on Sunday.
His omission came amid reports in Spain that Barca were unhappy with the way Dembele informed them he was unwell to train on Thursday, while it is also claimed there have been several instances of the winger breaking club rules.
Despite his domestic woes, Deschamps has named Dembele in his squad for the Nations League clash with Netherlands on Friday and a friendly match with Uruguay four days later.
The World Cup-winning boss says it is nothing new for Dembele to be late for training, but has warned him that he needs to change his ways if he is to carve out a successful career at the top.
"I didn't speak with the Barça staff because I don't interfere in the running of the club," Deschamps told a media conference.
"Ousmane is there for a while. He is a bit used to arriving late. He will certainly say that he is not the only one (to do it).
"But he must be a little more attentive. He is a player who has known many things (in his sporting life) already despite his youth.
"I don't despair that he realizes that he has to improve these aspects. This is a situation that can be repeated. He must understand this as soon as possible".
Deschamps downplayed the concern that Dembele has been warned before with little change, noting that players will never be perfect.
"There are different options," Deschamps added. "I do not despair. Nobody is perfect.
"There are rules in their clubs. We have ours. Players have the right to make a mistake. After you have to know the gravity, the ideal is that they do everything right but it will never be the case".