Barcelona
'He insulted me three times!' - Rakitic reveals angry referee exchange during Real Madrid clash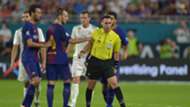 Barcelona midfielder Ivan Rakitic has revealed he was the target of multiple insults during a confrontation with referee Jair Marrufo during Saturday's Clasico meeting with Real Madrid.
Neymar, Coutinho & Mbappe all to leave - 7/4
The 29-year-old had put Barca 2-0 up inside seven minutes, adding to Lionel Messi's opener, with the Camp Nou club eventually claiming a 3-2 victory in Miami. 
Despite the tie being in the International Champions Cup, a friendly, pre-season tournament, the game did not pass without incident. 
Following referee Marrufo's decision to stop the game in the second half due to what he deemed to be a foul, he and Rakitic exchanged words before the midfielder was seen to push the official. 
Rakitic avoided a booking for the incident, but revealed what the cause of the argument was when speaking to reporters in the mixed zone following the game.
"People who know me are aware that it is difficult to wind me up but the referee did," Rakitic said. "He insulted me quite strongly three times.
"I usually have a lot of respect for them but when they don't show it to me, then I don't like it."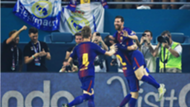 Barcelona will meet Real before the Liga season kicks off, coming together in a two-legged fixture to compete for the Super Cup next month. 
Barca's full 2017-18 La Liga fixtures
And while Rakitic says the recent ICC result means little, he is confident that Barca can beat their Clasico rivals in official competition. 
"We will see if we are better than Madrid," he added. "This was a friendly game today but the victory always gives confidence.
"The Super Cup will be different as we will be playing for a trophy which is what is important."
Barca took on Italian champions Juventus in their opening pre-season friendly, winning 2-1, before narrowly beating Jose Mourinho's Manchester United 1-0. 
The latest Barca transfer rumours
The Catalan club will take on Gimnastic and Chapecoense before the Super Cup, and Rakitic has enjoyed the build-up to the season and the tour of America.
Rakitic said: "There is still a little to go but I think the tour has been a positive tour. The games have had a good rhythm and we have worked hard in training. When you win then you always enjoy it more."