Young Africans
Hassan Kessy impress as three players disappoint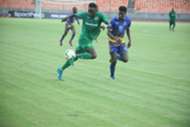 Yanga players Pato Ngonyani, Gadiel Michael and Emmanuel Martin were among those who disappointed in a 2-1 defeat at home against Township Rollers in CAF Champions League first leg tie. 
The results leaves Yanga with the huge mountain to climb in the second leg which will be held in Botswana on March 17. 
Here is how Yanga players performed against their opponents at the National Stadium. 
Ramadhan Kabwili 
The young goalkeeper came in the starting lineup to replace Youthe Rostand. He was nervous as the game begun, had a poor rate of ball distributions, he conceded an awful first goal and he no chance in the second goal. 5 
Hassan Kessy 
Man of the match performance, his work rate on the field was incredible, appears firmly in the driving seat ahead of Juma Abdul at right-back, he got forward in support of Emmanuel Martin and coped well with Rollers attacking players. 8 
Gadiel Michael 
Rollers seemed to target the left of Yanga's defense. Perhaps they spotted his vulnerability. He was not able to get forward. 4 
Juma Said 
He is trying to work hard for the team but still he is not good enough for the central defender position. He looked nervous when under pressure and even doing the simplest of task, his misplaced pass led to the visitor's opening goal. 5 
Kelvin Yondani 
Commanding display from the experienced defender, he did not start the game well. He is lucky not to give away the second goal after his poor back pass was caught by the opponent. But after all he was one among the lively Yanga player on the pitch throughout the game. 6 
Pato Ngonyani 
surely he had a long game, he misplaced passes, and he was not able to regain possession, in short he was roving at the middle of the park. 4 
Pappy Tshishimbi 
Commanding display at the middle, he started the game slowly but gradually grew into the game, his vision was clear for the assist to Obrey Chirwa's equalizing goal. 7 
Pius Buswita 
He was involved in the build of Yanga's goal but he did not have much impact in the game, his decisions on the ball were poor. 5 
Emmanuel Martin 
Quite evening for the winger, he did not have much to do. He was replaced after 63 minutes. 4 
Obrey Chirwa 
He played against three defenders, he was helpless in front. He dropped at the middle to take the ball himself, he scored a decisive goal although it proved not enough. 6 
Ibrahim Ajib 
Lively on the left with some dazzling runs and had one of Yanga's best chances but he smashed the ball well over the crossbar. Some will ask themselves why George Lwandamina decided to replace him in the 68th minute. 6 
Subs 
Geofrey Mwashiuya 
Coming in with 27 minutes to play but he did not change anything. 5 
Juma Mahadhi 
Coming in with 22 minutes to play but he did not have any impact in the game. 5