Friendlies
Harambee Stars coach Sebastien Migne optimistic ahead of Swaziland tie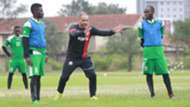 Harambee Stars coach Sebastien Migne is hopeful his side will down Sihlangu Simnikati of Swaziland in an international friendly to be played at Kenyatta Stadium on Friday.
Kenya has won two of her last meetings against the South African side, and this is expected to be another walk in the park. The Frenchman says the team has been doing well in camp and what remains is the execution on the pitch.
"The preparations have been good, the rate of competitiveness by our players is encouraging and as a coach I am impressed. We are going to use these friendly matches to gauge our players as we prepare for even bigger assignments in the future."
Stars are placed in the 111th position, about twenty places higher than Swaziland. The hosts will play Ghana in September in the Afcon Qualifier hoping to get a positive result after their 2-1 loss to Sierra Leone.
Both matches will be played at the Kenyatta Stadium in Machakos, with tickets set to retail at Sh100 (Terrace) and Sh300 (VIP). The team will then travel to India to take part in the 2018 Intercontinental Cup where Stars will face hosts India, New Zealand, and Taiwan.