Liverpool
'Hang on a minute, I'm in the team!' - Ex-Liverpool starlet Spearing on his Merseyside derby debut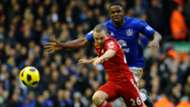 For Jay Spearing, the Merseyside derby will always hold some of his dearest memories.
So when Everton and Liverpool go head-to-head at Goodison Park this weekend, he will be watching intently, praying for a Red win.
It is more than seven years since the Wallasey-born midfielder got his first taste of derby day. He was 22 at the time, with just one Premier League start under his belt. That game, at Sunderland, had been memorable for the wrong reasons, decided as it was by a beach ball thrown from the away end.
League start No.2, however, would be different. It was January 2011, and it was Kenny Dalglish's first game at Anfield following his return as manager. Everton, their oldest rivals, were the opponents.
"I will always remember it," Spearing tells Goal. "With Kenny, you found out the team the day before. We went into a meeting at Melwood, and he literally just put the team up on the board. I looked at it for a second and thought, 'Hang on a minute, I'm in it!'
"The first thing I thought about was my dad. He's a Red and his brother is a Blue. That was the first thing that came into my head. I couldn't wait to ring him and tell him. God knows what Kenny said during that team meeting, by the way!"
Spearing played 90 minutes in midfield as the sides played out a tense 2-2 draw. He remembers getting by on "sheer adrenaline", and flying into an early tackle on Leighton Baines in front of the Main Stand to get the crowd going. His inclusion was a surprise, but there was no fear.
"If you worry about it, you ruin it for yourself," he says. "My dad said to me, 'You've worked all your life to be involved in something like this, so here it is, have a go!' I enjoyed every second of it."
Fifteen months later, Spearing would again be in the team for a derby match, this time in the famous surroundings of Wembley for an FA Cup semi-final. Again, he played 90 minutes, helping his side to a 2-1 victory on Grand National day 2012.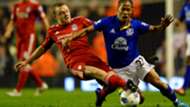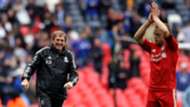 "If anyone ever asks me about my career, that's the first game that comes to mind," he smiles. "Obviously, you look at your debut and the Champions League games I played early on, Real Madrid for example. They take some beating.
"But, as a game, to play a full 90 at Wembley, 80,000 people in an FA Cup semi-final, all your friends and family watching, the hype all around it, that's the one. You live for days like that."
There is pride in Spearing's voice as he reflects on his Anfield career, and why not? Not many players, after all, get the chance to represent their boyhood club, to play alongside (and under) their heroes.
"I had Steven Gerrard as my captain, Jamie Carragher behind me and Kenny Dalglish on the sideline," he says. "What more could you want?!
"When I look back on my career, I can say I did what I dreamed of doing, I played with the players I dreamed of playing with and for the club I dreamed of playing for. Not many can say that, can they?"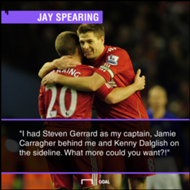 Spearing made 55 appearances for Liverpool in total, and was part of the squad which lifted the club's last major honour – the 2012 League Cup.
"Those pics are all up in my house now," he reflects. "I pulled my hamstring in the semi against City, but I was on the bench in the final. That was my dream, to win a trophy for Liverpool.
"I might not have played in the final, but I won a medal for Liverpool. It's still hanging up on my wall and I'm very proud of it, trust me. I worked hard for it.
"I remember the train home. My mates were on it, and I went and got the trophy so they could have their picture taken with it. Kenny was there giving them all hugs! Things like that, memories like that, you can't take them away."
That season, 2011-12, ranks as the best of Spearing's career. He made 25 appearances in all, started in an FA Cup final, and felt he could establish himself as a regular.
But when Brendan Rodgers replaced Dalglish as manager that summer, things changed.
"He just told me I might not play as much as I wanted," he remembers, without a hint of bitterness. "And, at that stage, I wanted to progress. I wanted 35-40 games, and he couldn't guarantee that.
"He had Joe Allen as one of his first signings, so I was pushed back down the order. It was just one of those things, so I went out on loan (to Bolton, whom he would later join permanently).
"For me, it was always about progression. I'd been two or three years playing off the bench, the odd game, then I got that run of games. That was what I wanted. I didn't feel I would get what I wanted at Liverpool, so I made the call to leave. To be happy, I need to be playing football."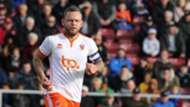 He got what he wanted at Bolton, going on to make close to 150 appearances for the Trotters and, in his own words, "loving every minute of it." He left last summer having helped them earn promotion back to the Championship. After a couple of months searching for a club, he found himself a new home, joining Blackpool in League One.
Additionally, he has used his relationship with Gerrard to good effect. Having trained at Liverpool's Academy during his search for a club, he has been invited in to host coaching sessions with the club's U13 team. He hopes to complete his UEFA 'B' Licence this summer, and says coaching gives him "a buzz I never knew I'd get". We can expect to see him continue down that path in the future.
Playing, though, is what really matters to him, and at 29 there is still plenty of life in him yet.
He laughs when he remembers his competition with Martin Kelly over who could make the most first-team appearances at Liverpool – Kelly, who made his Reds debut on the same night, eventually finished on 62, seven ahead of his pal.
"I messaged him the day he passed 55," Spearing smiles. "It wasn't a nice message!"
He reflects on the days working under Rafa Benitez – "the man who gave me my debut, and the best tactical manager I've ever seen" – and of training sessions at Melwood with the likes of Gerrard, Carragher, Javier Mascherano, Fernando Torres and Jay Spearing.
"If you asked me to pick a dream team, I could name a pretty good one!" he grins.
He marvels at the current Reds side and their attacking flair – he watched their Champions League win over Manchester City this week with the same sense of awe as the rest of us – and offers a robust defence of Jordan Henderson, his former teammate and the current skipper.
"He's earned everything he has now," Spearing says. "He should be respected a lot more than he is, in my eyes, and even today I feel he's a better player than people make out. He's still a big player for Liverpool and for England, and all those managers who keep on picking him and making him captain can't be wrong, can they?"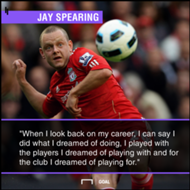 Away from football, Spearing is a family man, the bulk of his time dedicated to his partner and two young daughters.
The youngest of those, Lily, turns three soon, but Spearing says he is indebted to the work of Arrowe Park's Special Care Baby Unit (SCBU), for their work when she was born with fluid on her lungs in 2015.
He regularly holds fundraising events for SCBU, which relies almost entirely on donations. It is, he says, his way of giving something back to a cause which deserves his support.
"The work they do there is life-changing," he points out. "I saw it first hand."
He believes coaching will be his pathway, post-football, though the media is something which interests him, His recent arrival into social media, via Twitter, Instagram and a newly-released Spotify playlist, are designed to keep him in the public eye. "I don't mind the criticism from social media," he grins. "It's just people's opinion, isn't it? I care about what my dad thinks more - and the gaffer!"
On the field, his season has been mixed. Blackpool are two-thirds of the way down League One, but Spearing is at least playing again, a regular in Gary Bowyer's midfield. Regular football, he insists, is all he ever wanted.
The Tangerines are at home to Bradford City this Saturday, but we can expect Spearing's eyes to be drawn to Anfield for the early kick-off.
Liverpool against Everton will always bring back memories for him. Good ones, too.