WC Qualification Africa
Gyan declares himself fit to face Congo in World Cup qualifiers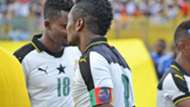 Ghana captain Asamoah Gyan has rejected suggestions that he may miss Friday's game against Congo in the 2018 Fifa World Cup qualifiers at the Baba Yara Sports Stadium.
The 31-year-old completed the Black Stars' final training session on Thursday, and he is likely to partner either Jordan Ayew or Kwadwo Poku upfront after Rafael Dwamena was ruled out of the game following his failed medical at Premier League side Brighton & Hove Albion last week.
"I've declared myself fit because I was available [for my club] in the last game, so that's the most important thing," Gyan told reporters after the training.
"So far as I'm on the field, that's the important thing and I will give out my best to help the team win against Congo on Friday.
"As I always say, we need to win all the games [left] to make sure our World Cup dreams are on point because we cannot afford to lose points right now. We will not allow them to play and will make sure we keep the pace.
"They're good in ball possession so we are going to make sure we avoid that [because] at the end of the day, everybody wants a win. So we'll try our best to win tomorrow," he added.
Gyan also called on supporters to come in their numbers to cheer them up.
"I'm very sure about it [Kumasi supporters will play a huge part in the game]. This is because in the game against Ethiopia, it was massive. The fans came in their numbers to support and they played a very important role. This raised our confidence as we were able to deliver.
"We will be expecting a lot of supporters tomorrow because 20 per cent of our wins are from the fans," said Gyan.
Following Uganda's 1-0 victory over Egypt to go top of Group E with seven points, Ghana have a realistic chance to also qualify with a win over Congo.