Indian Super League
Gurpreet Singh Sandhu vs Vishal Kaith: Battle of the king and the pretender to the throne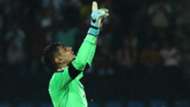 On Friday, the top two ranked sides in the Indian Super League (ISL) will go head-to-head when Bengaluru FC hosts FC Pune City at the Sree Kanteerava stadium.
On opposite ends of the field will be two goalkeepers very much in the national team fold currently, one the undisputed No.1 while the other an up and coming young custodian just bursting onto the international scene.
Gurpreet Singh Sandhu's high-profile transfer from Norwegian side Stabaek at the start was said to be a quite a coup for the JSW-owned outfit. By contrast, Vishal Kaith had already spent a year on the bench of Pune before his loan transfer from Shillong Lajong was made permanent.
For both the goalkeepers, it would be their first tryst with the ISL. It has been a season where majority of the clubs have gone the route of putting an Indian player between the sticks to maximize their overseas players' quota in the outfield.
That has led to quite a few of India's domestic talent when it comes to the goalkeeping department being shown up for their inadequacies with blunder after blunder defining their season.
The likes of Lakmikant Kattimani, TP Rehenesh and Debjit Majumder come to mind when it comes to those guilty of such crimes. Few however, have swum out of the tide while others have sunk.
Both Gurpreet and Kaith have been one of the safer pair of hands when it comes to Indian goalkeepers. It is however the latter who has had the more remarkable campaigns of the two. He has enjoyed the trust of his Serbian manager Ranko Popovic and gone on to establish himself as the No.1, leaving behind fellow youngster Kamaljit Singh in his wake.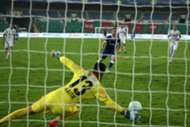 Having made 12 appearances in the season so far, Kaith has managed to keep a clean-sheet in half of them and lies second only to Jamshedpur FC's Subrata Paul who has seven. In fact, when it comes to choosing the best goalkeeper on display in the league this season, the duo are the first names that come to mind.
The India first-choice has been his reliable self when called upon for the most part otherwise but he has been upstaged by Paul, Kaith and to a certain extent, even Mumbai City's Amrinder Singh. It must be noted though that he received a straight red against FC Goa which resulted in a two-match suspension. 
The 26-year-old has four clean-sheets to show for his 13 appearances this season. Stats wise, the senior counterpart has been pulled of 31 saves in his appearances while Kaith has registered 37. Gurpreet has faced five penalties so far compared to the Pune man's one while he has also conceded one against FC Goa where he was sent off. The former has managed to save only one of them while the latter has a perfect record in the solitary case. Both their penalty saves have ironically come against the same side, Chennaiyin FC, with Gurpreet saving Jeje Lalpekhua's effort while Kaith denied Rene Milehic.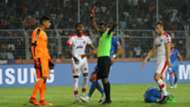 Aerially, both have been equally dominant in their box. Kaith has come out to claim 18 high balls while the Bengaluru man has claimed 17. Gurpreet shades it when it comes to playing with the feet with a 59 per cent pass accuracy compared to Kaith's 45 per cent.
All things considered though, the established senior figure was always expected to deliver at his new club. He comes with the star quality to back up his hype and has been generally solid, if not spectacular. The younger man though, has been slowly carving out a name himself. While it might only still be one season and too soon to judge, it is a noteworthy achievement.
There is no denying that Gurpreet will be the undisputed India No.1 for some time to come and with Paul on his last legs, the battle for India's No.2 seems to be between Kaith and Amrinder. It is the former who seems to be edging in front for now, and he could well be the contender to Gurpreet's throne in years to come if he keeps up his current form.
Hence on Friday, it could very well be India's present and the future at the opposite end of the field.