WTF
Green Street (2005): Cast, soundtrack & all you need to know about the football hooligan drama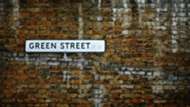 The murky world of football hooliganism has been explored in film over the years and Lexi Alexander's Green Street joined the list in 2005.
It earned recognition following its release, winning awards at the SXSW Film Festival and the Malibu Film Festival, and its success inspired a number of sequels.
However, while it is somewhat of a cult favourite among some football fans, others were critical of the scenes of violence it contained.
Goal takes a look at the film, its cast and everything you need to know.
---
Green Street Hooligans: Plot
---
Green Street, or Green Street Hooligans, as it is also known, is a classic 'fish-out-of-water' story in which disgraced Harvard journalism student Matt Buckner finds himself plunged into the wholly unfamiliar realm of the Green Street Elite (GSE), a notorious gang of West Ham supporters who fight with rival fan groups.
After being embroiled in a drug scandal at college, Buckner crosses the Atlantic to visit his sister Shannon and her husband Steve in London and, while there, he strikes up a friendship with Steve's brother Pete, who also happens to lead the GSE.
Matt tentatively enters Pete's world and gradually comes to relish the experience, clashing with gangs who support Manchester United and Millwall, undergoing a rite of passage in the process.
Familial tensions and tragedy are tightly interwoven in the narrative and the clashes between the firms eventually culminate in a shocking death.
---
Green Street cast
---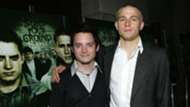 The film's protagonist Matt is played by Lord of the Rings star Elijah Wood and he is supported by English actor Charlie Hunnam, who would later go on to star in Sons of Anarchy .
Among the other actors in the cast are Marc Warren, who had previously appeared in Band of Brothers,  and Meet Joe Black actress Claire Forlani, who plays Shannon, Matt's sister.
Selected Green Street cast:
| Actor | Character |
| --- | --- |
| Elijah Wood | Matt Buckner |
| Charlie Hunnam | Pete Dunham |
| Claire Forlani | Shannon Dunham |
| Marc Warren | Steve Dunham |
| Leo Gregory | Bovver |
| Geoff Bell | Tommy Hatcher |
| Kieran Bew | Ike |
| Henry Goodman | Carl Buckner |
| Christopher Hehir | Keith |
| Terence Jay | Jeremy Van Holden |
| Ross McCall | Dave |
| Francis Pope | Ned |
| Rafe Spall | Swill |
| David Alexander | Nigel |
| Oliver Allison | Ben Dunham |
---
Green Street reviews
---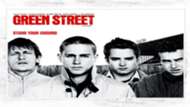 | Website | Rating | Review |
| --- | --- | --- |
| IMDb | 7.5/10 | "Very powerful and close to the mark." |
| Rotten Tomatoes | 5.5/10 | "When it comes to the subculture of soccer thugs, Green Street Hooligans lacks sufficient insight, and instead comes off as a Fight Club knock-off." |
| Empire | 2/5 | "A surprisingly rose-tinted look at a subculture that really should have been stamped out some time ago." |
| Roger Ebert | 3.5/4 | "The message is that violence is hard-wired into men, if only the connection is made." |
| BBC | 2/5 | "Obscenely glamorises senseless violence." |
Green Street was met with mixed reviews following its release in 2005, with critics focusing on the violence depicted in the film.
Empire magazine, for example, viewed the film as a "surprisingly rose-tinted look at a subculture that really should have been stamped out some time ago" while the BBC said that it "obscenely glamorises senseless violence."
The website Rotten Tomatoes characterises Green Street as "a Fight Club knock-off" that "lacks sufficient insight".
However, respected critic Roger Ebert took a more sympathetic view, analysing the film as an examination of men who run in packs and seek violence as a hobby.
Audiences were generally less harsh in their assessment of the film and user reviews tend to give higher ratings than the critics.
---
Green Street soundtrack
---
The soundtrack for Green Street features a variety of genres and well known artists.
Among them is Dutch electronica DJ Junkie XL, whose songs 'Def Beat', 'One Kick Beyond' and 'Morning Song' can be heard.
| No. | Song | Artist |
| --- | --- | --- |
| 1. | Only When I Laugh | Ken Jones |
| 2. | Hooligan Drums | Ivan Koutikov |
| 3. | The Strength of One | Christopher Mann |
| 4. | Waterfall | The Stone Roses |
| 5. | I'm Forever Blowing Bubbles | Green Street Cast |
| 6. | Moving On | Must |
| 7. | Def Beat | Junkie XL |
| 8. | Seasick | Willie Scott |
| 9. | One Kick Beyond | Junkie XL |
| 10. | Shame | Terence Jay |
| 11. | I Wanna Be Adored | The Stone Roses |
| 12. | Stand Your Ground | Acarine |
| 13. | Morning Song | Junkie XL |
| 14. | One Blood | Terence Jay |
| 15. | A No Win Situation | Christopher Mann |
| 16. | Test of a Man | Dash |
| 17. | Run From the Pigs | Terence Jay |
| 18. | Down With The Sickness | Disturbed |
A number of songs from the heavy metal band Machine Head are included, performed by Christopher Mann, while The Stone Roses hits 'Waterfall' and 'I Wanna Be Adored' are included at points.
The song 'Im Forever Blowing Bubbles', which is an anthem for the Green Street Elite and West Ham fans, features throughout, with the firm members singing it.
---
Watch Green Street online
---
Green Street can be watched online on a number of platforms, but the availability depends on where you are located.
It can be rented or bought for a fee on Youtube, as well as being available to watch on Amazon Prime. It is not available to watch on Netflix in the UK or US.
| Platform | Availability |
| --- | --- |
| Amazon Prime | Yes |
| Netflix | No (UK & US) |
| Youtube | Yes |
---
Green Street sequels
---
The moderate success of Green Street led to the production of a number of sequels, but they did not match the original in terms of popularity.
Green Street 2: Stand Your Ground was released in four years later in 2009, but it was directed by Jesse V. Johnson rather than Alexander and does not feature many of the original cast.
A second sequel, Green Street 3: Never Back Down, was released in 2013 and, like Stand Your Ground, featured a different cast and director.
Unlike the original, both sequels were straight-to-DVD productions.
---
Related movies
---
| Movie | Year |
| --- | --- |
| The Firm | 1988 |
| The Football Factory | 2004 |
| Cass | 2008 |
The 1998 British made-for-TV film The Firm is, perhaps, the chief forerunner to Green Street. Made for the BBC, it stars Gary Oldman and, like Green Street, is based on a notorious West Ham-supporting 'football firm'. Oldman is supported by the likes of Phil Davis, Charles Lawson, Lesley Mansville and Steve McFadden
The Football Factory (2004), which was released a year before Green Street, similarly revolves around the activities of a group of football hooligans who support Chelsea. The film stars Danny Dyer as well as Frank Harper and Tamer Hassan.
Another movie that deals closely with football hooliganism and specifically West Ham-supporting firms is Cass (2008), which is based on the life of Cass Pennant, a former football hooligan who rose through the ranks of the Inter City Firm to become its leader.