KPL
Gor Mahia captain Haron Shakava wary of Simba claws ahead of Super Cup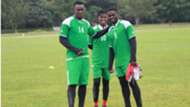 Gor Mahia captain Haron Shakava is worried about the threat posed by Tanzania giant Simba ahead of the Super Cup tournament.
"Playing tournament matches are always hard because every team wants to give their best and the chances are equal, so we can't look down on any team.
"We respect all teams, but we are seeing Simba as the main challenge because they have been enjoying some good run in their league. That doesn't mean they will have an easy one, no."
Gor Mahia warmed up for the tournament with a slim victory against Sony Sugar in Kisumu. Shakava believes that the mid-week match was enough preparations ahead of their opening match against Jeshi La Kujenga Uchumi.
"We have been preparing well for other matches and this should just be a continuation of our assignments. After our league match yesterday, our focus is fully on the tournament and in all honesty, we are ready for it. We want to give it our best."
"We will handle all our matches with the seriousness they deserve and our aim is to defend the title," Shakava told the official Gor Mahia website.
But playing at Afraha Stadium will come with a lot of pressure on the league defending champions according to the skipper.
"There is an advantage in playing at home but it comes with a lot of pressure. We have been through such many times and handling that can never be a worry to us."
Gor Mahia will be taking on JKU of Zanzibar on June 3 in their first match of the tournament in Nakuru.