UEFA Champions League
Goals galore! - Champions League last 16 sets new record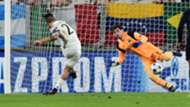 The Champions League last 16 has seen plenty of goals flying in, which has resulted in a new record for the competition.
Paulo Dybala's spot-kick for Juventus against Porto was the 57th goal of the round of 16, setting a new Champions League record.
57 - There have now been more goals in the Champions League Last 16 2016/17 than any other Last 16 previously in the competition. Galore.

— OptaJoe (@OptaJoe) March 14, 2017
The credit for the new mark can be spread around - with Arsenal contributing mightily by allowing Bayern Munich to score 10 goals over two games, Barcelona and PSG combining for 11 goals over two legs, and Manchester City and Monaco scoring eight in just the first leg of their tie.
The new record is likely to increase, with second-leg matches between City and Monaco, as well as Bayer Leverkusen and Atletico Madrid still to play.