Transfers
'Give us Aguero and you have Sanchez' - Arsenal told to drive hard transfer bargain from Man City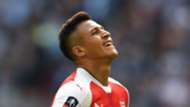 ---
EXCLUSIVE
---
Paul Merson has called on Arsenal to negotiate a swap deal with Manchester City for Sergio Aguero should Alexis Sanchez continue to push for a summer departure.
On Saturday, the Chilean forward admitted he want to be playing Champions League football next season and says his future "depends" on Arsenal.
Mourinho: Ronaldo to Man Utd impossible
Merson, who played for Arsenal between 1982 and 1997, thinks Alexis will be extremely hard to replace and gave Arsene Wenger some advice for transfer talks with their Premier League rivals.
"I don't think Arsenal can replace Sanchez, can they?" Merson told Goal. "He gets 30 of their goals, but you've got to move on.
"If someone doesn't want to be at the club, Arsenal are a big club and you don't want players who don't want to be there. Arsenal are a big club, a very big club and you don't want that.
"He's a good player - if I were Arsenal I'd be ringing up Man City and saying 'Give us Aguero and you can have Sanchez.'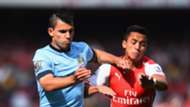 "[If Alexis wants to go to Man City] then I'd say I want Aguero. He's better than Sanchez."
Merson is concerned that Arsenal will find themselves finishing outside the Champions League qualification spots for a second year running should they fail to keep hold of former Barcelona forward Alexis.
"I do [think they'll struggle], Arsenal need to be in the top four," the ex-England international, 49, added.
"I know they're not going to win it but if you're in it you're going to be playing bigger games. At the moment, you're taking away 20-odd goals and 10 or 11 assists, and he's a handful, Sanchez.
"So, for me, he can't go to Man City unless Arsenal get Aguero."
Goal understands that Manchester City are Alexis' first choice should he leave the Emirates Stadium in 2017, but he's also been pursued by Bayern Munich and Paris Saint-Germain.
Wenger denied reports Sanchez has agreed a new contract when he spoke to the media on Saturday after Arsenal's pre-season win over Western Sydney Wanderers.