Transfers
Ghosts, duds & disasters: How Manchester United transfer failures are haunting Solskjaer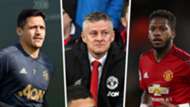 Looking at the Manchester United line-up that started the game against West Ham on Saturday, you could conduct your own sort of footballing stratigraphy - the study of layered material at an archaeological site. There were players signed by the three permanent managers who followed immediately after the retirement of Sir Alex Ferguson as well as a few of the great man's own vintage.
In goal was Ferguson's David de Gea and he was joined by Phil Jones and Chris Smalling. Elsewhere were Paul Pogba and Jesse Lingard, both originally recruited for the youth sectors during Ferguson's days, before Jose Mourinho paid £89 million ($115m) to Juventus for the privilege of signing United's own youth product.
Then you had David Moyes's Juan Mata, who won the first crucial penalty on the day. Marcos Rojo and Anthony Martial – signed by Louis van Gaal – started together on the left side.
And in Diogo Dalot, Fred and Romelu Lukaku you had players recruited by the man who came before Ole Gunnar Solskjaer, Mourinho.
You get a true sense of the disorganisation around Manchester United when you consider the fragments of so many regimes knocking around the field. You find clues in how the club has got it so badly wrong in the last six years.
Too many managers have been allowed to sign too many players to play in too many different systems and it's all happened far too quickly. The result is chaos.
Consider the number of transfer duds that are simply no longer here. Moyes's Marouane Fellaini, Van Gaal's Bastian Schweinsteiger and Mourinho's Henrikh Mkhitaryan were all signed to be centre-pieces of one regime or another. They all have very different ideas about how to run a game.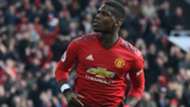 Bad signings haunt the place. Look over there and you'll see the spirit of Memphis Depay. Over there the ghost of Radamel Falcao. Morgan Schneiderlin, Angel Di Maria. Very few players signed in the post-Ferguson era can be regarded as outright successes but plenty can be said to be failures.
The closest thing to a winner might be Mata, because he's endured the longest and has won whatever United have won in that time. Next might be Ander Herrera, who, like Mata, is about to walk out of the place on a free transfer.
All the while, the old guard have been retiring or leaving with none of their prior success rubbing off on those coming up after. The good habits of the Ferguson era are all but dead with only De Gea maintaining a kind of title-winning form from the glory days. Chicharito, Danny Welbeck, Jonny Evans and Rafael da Silva are the kind of players who might take one look at the current United set-up and still fancy their chances of making the team. And if Solskjaer is indeed trying to hark back to the Ferguson ethos, those are the kind of players who might have helped foster it had they been retained.
But in the cold light of day, the club would have to now admit the likes of Smalling and Jones – as well as Ashley Young and Antonio Valencia – are unlikely to get any more league winners' medals around their necks before being moved on.
Recruitment has been the single biggest issue following Ferguson. Each manager has had a go at it with similarly underwhelming results. Each has left a legacy of mediocrity for the next man to deal with. That is not necessarily the fault of each individual manager. Every one of them – from Moyes to Solskjaer – has been permitted to pursue his own idea of how the game should be played and seek the kind of players they like.
But as each brief tenure has deflated, what remains for the successor is less a foundation and more a wreck. That – it has to be said – comes down to Ed Woodward, the executive vice chair entrusted to run the club while the wealthy but disinterested Glazers gorge themselves on the club's profits.
It must have looked easy to Woodward, what Ferguson did. The players he signed – for immediate use or for the future – were generally solid and dependable. He knew what would fit. The attitude in the dressing room was healthy. It was always an internally-competitive squad and one with outstandingly high standards on the field.
With Ferguson at the helm, it was the kind of football club which looked like it was running itself. But with the main man removed, it quickly crumbled. And in the void where should have been sitting a technical director – admittedly useless in a club utilising the Ferguson model – was nothing. And still there's nothing.
There is no person currently in charge of ensuring that the signings are coherent and in line with the football strategies – or philosophies – laid down by the club. There is no one ensuring which contract negotiations should be priority and which should be let slide. First-team players come and go at the whim of whoever is in the dugout. And with the average Premier League coaching tenure now beneath two years, that can never be sustainable.
Now they head into one of their now biannual most-crucial-transfer-windows-ever. Technical directors at their big European counterparts are sorting through or finalising their signings. United are sorting through technical directors.
The latest names linked in this so-far fruitless exercise are John Murtough, head of first-team development, and Marcel Bout, chief scout. Either would be an in-house appointment after external candidates such as the former Lokomotiv Moscow technical director Eric Stoffelshaus were looked at but not followed up on.
Like all clubs, United will have a list of playing targets in mind, in varying degrees of priority. But whose targets are they? Solskjaer's? The club's? Are those two different lists? And, if so, how will they ensure no duds are left when Solskajer is inevitably given his papers? There have been reports of Solskajer having upwards of £200m ($262m) to spend in the summer but will that even be enough?
What is happening at United right now should have alarm bells ringing. They may well have won two Premier League games at Old Trafford recently against Watford and West Ham but they conceded 40 shots across the two. Against West Ham, they had two penalties, one the generous side of non-existent, the Hammers had a legitimate goal cancelled for offside and hit the woodwork for good measure. It was they who had the better players and played the better football.
United are picking up fewer wins than at the start of the Solskjaer reign and the performances – both individually and collectively – have tailed off too. Chances, let alone goals, from open play are diminishing and there is a near total reliance on Pogba's ability to score penalties.
Off the field, there are contractual issues to sort not only with Herrera but also De Gea, Marcus Rashford and more. A half-million per-week contract issued to Alexis Sanchez by Mourinho does not help United's side in any negotiation.
Meanwhile, the threat of Pogba and the goalkeeper bringing their spells at the club to an end in favour of moves to Real Madrid is clear and present. Unless something unexpected happens in the games against Barcelona, Manchester City and Chelsea, there will be no Champions League football next season for Pogba, De Gea or anybody else for that matter.
Potential recruits now look to United and know what they can earn but will wonder if it's worth it, to play such ordinary football with no hope of winning the title and in secondary European competitions.
The football stratigraphers will check back when the next era ends to see another layer.