Ghana
Ghana FA denies 'advanced talks' with Sagnol to succeed Grant
Kingsley Kobo & Evans Gyamera-Antwi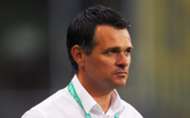 Ghana Football Association vice president George Afriyie has denied the existence of talks with former France defender Willy Sagnol to succeed outgoing Black Stars coach Avram Grant.
Grant is set to quit his role by end of the month after returning from the 2017 Africa Cup of Nations in Gabon without a medal.
Reports in France claim Sagnol is in advanced talks and could soon be named new head coach of Ghana team.
Afriyie has refuted such reports, suggesting that the 39-year-old Frenchman and his counsel could be using the media for attention.
"The story about Willy Sagnol becoming the next coach is totally false and must not be entertained by Ghanaians," Afriyie told Goal.
"After we returned from the 2017 Afcon, we are yet to meet as a body to even discuss the reports submitted by Avram Grant, so how can we hastily begin the search for a new coach?
"Our next competitive game is in August so we have a couple of months to analyze where we fell short and the way forward. We will pick the best coach and someone whose ideologies don't contradict with ours.
"Nobody from the association has spoken to Sagnol or his counsel and we're not ready to entertain him or anyone at this point. I think he is using the media for attention but that is very awkward because that won't determine who must be picked.
"We always select the best coaches for our national teams not because he is popular on the internet. We did not just select Avram Grant, he was interviewed by a panel so don't expect anything different," he added.
Sagnol, who has been without a club since his departure from Bordeaux in March last year, played for Monaco before joining Bayern Munich in 2000. He won five Bundesliga titles and the Champions League in 2001 with the Bavarians as well as two Confederations Cup titles in 2001 and 2003 with France.