African All Stars
Gernot Rohr explains Ogu snub in Libya win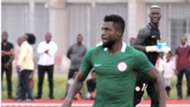 Nigeria head coach Gernot Rohr says he left John Ogu on the bench in a 4-0 win against Liyba in Uyo as he felt injured Shehu Abdullahi needed to be replaced.
Despite being often called up, Ogu has continued to struggle to get playing time under Rohr and yet again, among the substitutes in Uyo and remained unused despite a massive win.
Having seen Abdullahi coped an injury in the first half, with Ola Aina used as a substitute by Rohr, who explained his decisions after their big home win, assuring 'his time will always come'.
"I like him very much and he is always here and his moment will always come," Rohr told media.
"But when we had an injury in the first half and already had to do a change of Ola Aina coming for Shehu Abdullahi.
"We wanted to let a little bit of recovery and we took out Ahmed [Musa] and Odion [Ighalo] who scored a hat-trick.
"We are watching already for the second game [against Libya]. That was why we made those changes [leaving Ogu on the bench]."