Brazil
From Tite's gamble to superstar, Gabriel Jesus is the man to lead Brazil's attack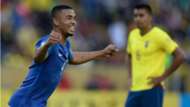 ---
COMMENT
---
Friday's clash against Ecuador will have special meaning for Brazil star Gabriel Jesus. The striker will almost certainly be reminded of his Selecao debut as he meets again with his first-ever international opponent. 
One year ago the current Brazil No. 9 got the chance from fellow debutant, coach Tite, to shine, and took on the responsibility of leading the line for the South American giants.
Before him there were many pretenders. Scores of names passed through the centre-forward role, but nobody made as big an impression as Tite's gamble, who had shined in the Brasileirao with Palmeiras and helped Brazil take their first Olympic gold medal. We can safely say that Gabriel Jesus was born for the Selecao. 
---
READ MORE: 
Coutinho fit for Brazil | 5 great Brazil-Ecuador clashes | Brazil's WCQ campaign so far
---
Taking on a tough opponent, leader of the CONMEBOL World Cup qualifiers at the time and playing in the altitude of Quito, Gabriel refused to flinch and showed off his full talent. He won a penalty and scored two goals of his own to seal a crucial victory for his nation.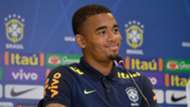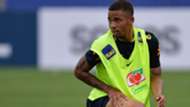 He did not stop there. The impact of the teenager was so great that he became Brazil's top scorer that year, alongside Philippe Coutinho, even with fewer games than most of his team-mates. Talent, mobility, great positioning and a fantastic touch in front of goal saw Gabriel Jesus give Brazil the striker they so sorely needed. 
Now the kid who left Palmeiras for Manchester City at the end of 2016 arrives with a different status. He became a star and has only gotten better since breaking into the first team at the Etihad Stadium. 
Against Ecuador Gabriel Jesus will take part in a qualifying game for the first time in 2017, after being ruled out of the games against Uruguay and Paraguay through injury. The clash marks a new beginning for him and for Tite, who, with 80 per cent of his team settled and qualification guaranteed, begins in earnest preparations for the World Cup proper in less than 12 months time.