From boy wonder to maturing professional, Pulisic ready to take on U.S. stardom
Last Updated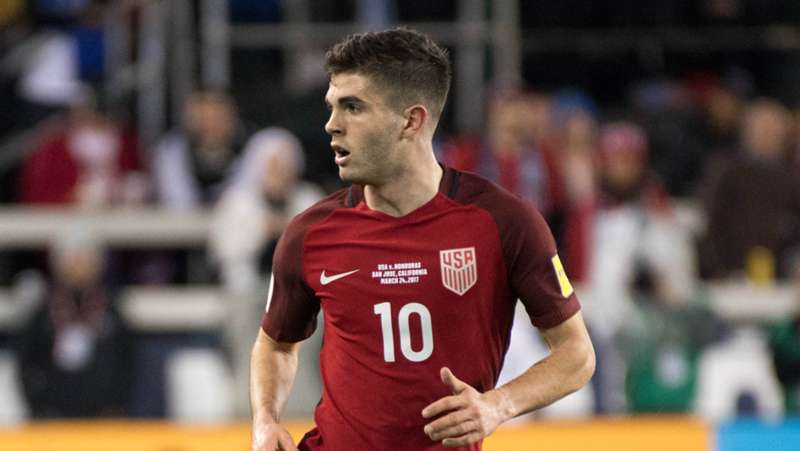 Kyle Terada
---
EXCLUSIVE
---
DENVER — How did Christian Pulisic happen? How does a kid from central Pennsylvania blossom into a player with the potential to be the most talented American soccer player in history? The easy answer is a combination of ability, determination, some luck and plenty of help along the way.
For Pulisic, the list of people who helped him is a long one, from family to youth coaches. But two men played the most instrumental roles in helping him navigate the pressure cooker of high-level European soccer, which has been known to chew up and spit out even the most talented prospects.
Pulisic's father, Mark, and his first professional club manager, Thomas Tuchel, were instrumental in seeing him go from Borussia Dortmund youth team player to regular contributor as Dortmund won the DFB-Pokal title.
Sizing up the USA's 40-man Gold Cup roster
As easy as Pulisic may have made that rapid rise appear, it didn't start out so easily. A key factor as Pulisic survived the difficult transition to European soccer was the presence of his father, who lived with the prospect for his first two years at Dortmund.
"(Having my father there) was everything," Pulisic told Goal. "Obviously I can talk to my family all the time through technology, but just having him there to comfort me and just have a face to talk to at night after a tough day and just tell him what I was feeling, and get some good advice from the guy who helped me get to that position — it meant everything."
Stories of young Americans struggling to adapt in Germany is nothing new. Whether you go back two decades to Landon Donovan's difficult assimilation at Bayer Leverkusen or reference the more recent example of goalkeeper Zack Steffen's struggles at Freiburg, managing the jump from the U.S. to Europe is no easy task.
"I definitely had my good and bad days," Pulisic said during a promotional event for Panini America. "It was very tough in the beginning, going to school there, then going training at night and having to compete in the U-17 team for my position. I came home at night and luckily my dad was there to talk to. There were definitely some tough times, but I was just always thinking about the greater goal, and what I really wanted down the road. With that in mind I was able to fight through."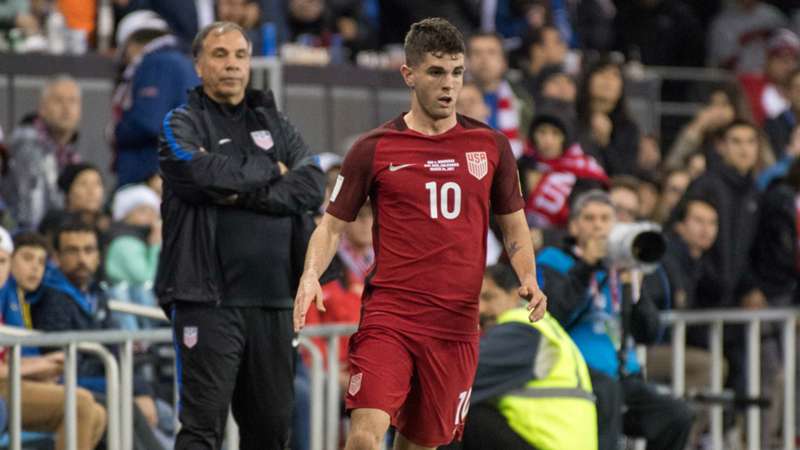 And what was the toughest part of his adaptation to life at Dortmund?
"The physical side of my game, and just learning the European environment and the style every day in training and competing and being strong enough and quick enough to be able to hang at that level," Pulisic said. "That was the biggest part."
Pulisic didn't just survive the difficult transition process — he blossomed into an impact player for Dortmund and game-changing starter for the U.S. national team, all by the age of 18.
To put his rapid rise into context, it was just a few years ago when Pulisic was a kid wearing the jerseys of his favorite stars and collecting their trading cards. Now, you see as many Pulisic jerseys as any other player when you attend a U.S. national team match. And Pulisic just signed an exclusive autograph and memorabilia deal with Panini America, joining stars such as Kobe Bryant and Kevin Durant.
"It's pretty exciting knowing that I used to collect cards and now people might actually collect my card and see my face on there," Pulisic said while signing his own special-edition autographed set of Panini America cards. "It's pretty cool."
As quickly as Pulisic as matured in recent years, the fan in him still appreciates what it means to be on the other side of the player-supporter dynamic. That includes fully appreciating having made the transition from the young kid in a Luis Figo jersey to having his name written on the back of U.S. and Dortmund jerseys on both sides of the Atlantic Ocean.
"Just knowing that people are going to the game or something with your jersey on and supporting you is really exciting and was a dream of mine," Pulisic said. "Every time I see it at Dortmund, at games, it's still exciting and gets you really excited to play."
Now, instead of wearing the jerseys of some of the best players in the world, he is taking the field against them. He has already faced the likes of Real Madrid and Bayern Munich in official club matches, and admits to having still occasionally been in awe, though he has quickly adapted with time.
"I've already played against some of my biggest idols," Pulisic said. "Lionel Messi, getting to meet him, you're a little star-struck in the beginning of course. But when you step out on the field you've got to play for yourself. It's pretty exciting to see those guys."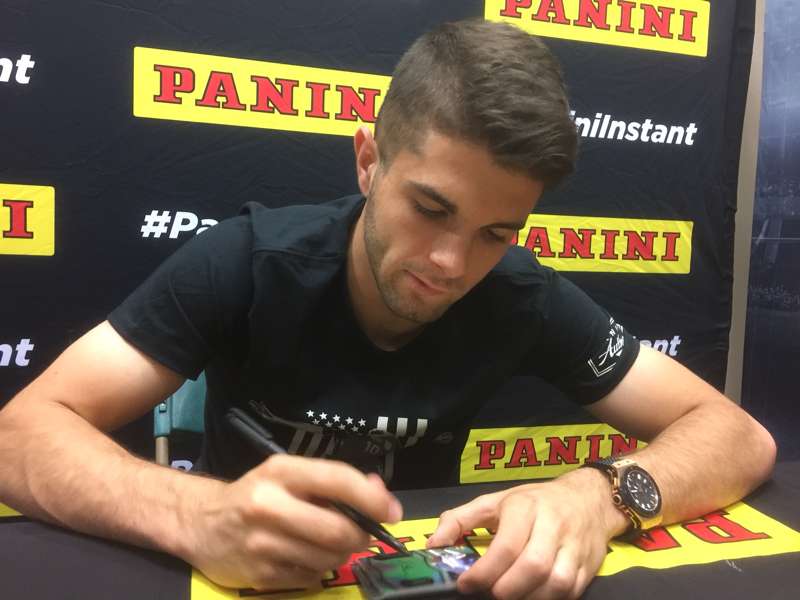 Pulisic fully grasps the dynamic of having gone from someone who admires world stars from afar to now aspiring to be one of them. That might explain why, though he will admit to having started a budding collection of jerseys from postgame swaps, he won't actually say publicly which players are a part of his collection. He'll only go as far as to acknowledge that he cherishes the jerseys he has landed from U.S. teammates he has faced in Bundesliga play.
Pulisic's transition into the U.S. national team has been just as smooth as his rise at Dortmund. After being brought along slowly by then-U.S. coach Jurgen Klinsmann, Pulisic broke into the starting lineup last fall and has solidified his standing as one of the first names on the team sheet for current coach Bruce Arena. His standout performances in the March qualifiers only increased the expectations surrounding him, and impressed his teammates.
"For a young kid, (Pulisic) understands the game pretty well," U.S. forward Jozy Altidore said. "He has a good feel for the game. He has a good smell for the game and where to be, spots to pop up in. He's good at running with the ball, so he's different. He's dynamic and I think that's important when you're playing with attacking midfielders or second strikers. They have to be very dynamic and be able to switch it up, and I think he's able to do that in a lot of ways."
Pulisic and the U.S. face Trinidad & Tobago in a crucial World Cup qualifier Thursday at Dick's Sporting Goods Park — the same Trinidad team Pulisic made his first World Cup qualifying start against in September. He was outstanding in that match, and will be expected to lead the attack Thursday before featuring in Sunday's showdown with Mexico at Estadio Azteca.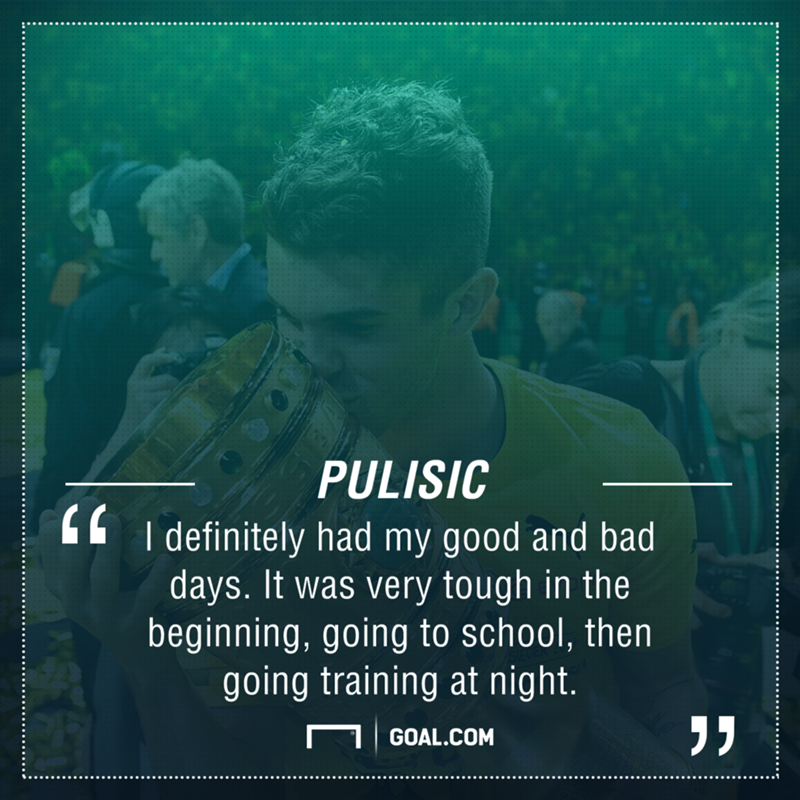 Between the June qualifiers, and a potential stint with the U.S. Gold Cup team in July, Pulisic is facing a busy summer before returning to Dortmund, where things will be much different after the departure of Tuchel.
"He always trusted me. He always gave me a chance, and just how he started to develop me as a player and what he did to start my career meant everything," Pulisic said of Tuchel. "He'll be missed."
Goal's Week 14 MLS Power Rankings
There is always the worry about how a new manager will affect younger players, but Dortmund's big-money swoop for Ajax manager Peter Bosz should allay some of those concerns. Bosz guided a young Ajax team to the Europa League final this past season, showing that he knows how to handle young talent. That is key as he joins a Dortmund side with the arguably the best collection of young players in the world.
That was another factor in helping Pulisic make the transition from youth player to first team standout. He wasn't the lone youngster on a team full of veterans, but rather one of several supremely talented prospects in the Dortmund setup.
"It was great having other young players there in the same spot as me, just learning and trying to start up our careers," Pulisic said. "And having those guys around to compete with in training every day, and just learn from each other, was very helpful."
As Pulisic heads toward his third season as a professional, he will do so without some of the very support that helped him get to this point. His father left Germany earlier this year to take a position as an assistant coach with the USL's Rochester Rhinos, and Tuchel, the manager who believed in him enough to play him ahead of bigger names over and over, has left the club.
Those departures might normally be worrisome for a young player still finding his way, but Pulisic isn't your ordinary 18-year-old.
Now, he is no longer seen as a freshly graduated youth prospect with potential, but rather a young man growing into an impact player for club and country — a young man ready to take on the challenges of budding stardom standing on his own.