FIFA 19
France are champions! Five highlights from the first ever eNations Cup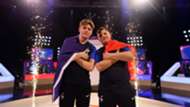 The first ever FIFA eNations Cup has come to a close with France emulating the achievements of the men's national football team in Russia to be crowned world champions.
The tournament used the same 2v2 format from the FIFA eClub World Cup from earlier in the year and saw Lucas 'DaXe' Cuillerier and Corentin 'Maestro' Thullier defeat Argentina in the final.
Goal picks out some of the main talking points from the tournament, including heartache for England at the quarter-final stage...
---
More national glory for France
---
It's an exciting time to be a French football fan as their eNations Cup triumph is a fantastic follow-up to winning the World Cup in Russia last year.
The final of the FIFA tournament had a tense beginning as Vitality's Maestro valiantly earned a draw with PlayStation No.1 Nicolas 'Nicolas99fc' Villalba.
Onto the second leg on Xbox and DaXe took on Yago 'Yagocai' Fawaz, who was having an impressive tournament but it was the Paris Saint-Germain representative who was able to pull off a 2-1 win to earn his nation the trophy.
That huge win earned both players a season-changing 1,500 Global Series Points each, meaning both are likely to qualify for the FIFA eWorld Cup later this year.
---
England disappoint
---
England duo Tom 'FUTWIZTom' Leese and Donovan 'F2Tekkz' Hunt went into the tournament as the favourites with the latter being the highest-rated player in the world.
F2Tekkz knew the 2v2 format well having won the FIFA eClub World Cup earlier in the year though there were question marks over his synergy with FUTWIZTom.
They did, however, get off to a fantastic start as England topped Group A ahead of eventual winners France and Saudi Arabia, who possessed reigning eWorld Cup champion Mossad 'MSdossary' Aldossary.
Yet their form came unstuck in the quarter-finals against Argentina as it was F2Tekkz who suffered defeat.
FUTWIZTom had earned a creditable draw with PlayStation's top seed Nicolas99fc which left Tekkz with the task of defeating Yago, who was playing on his weaker console. The world's best player would lose out, however, giving the Argentines a huge mental boost before the final.
---
Yago chose the wrong console 
---
While it was a fantastic performance from Argentina at the eNations Cup, Yago will be kicking himself for a bizarre decision his team made ahead of the tournament.
Nicolas99fc had all but confirmed his place in the eWorld Cup as he leads the PlayStation division while Yago came into the tournament as PlayStation's 27th seed, meaning he had everything to play for.
A second-placed finish bagged both players 800 Global Series Points but Yago's points will go to the Xbox rankings, which is ultimately worthless for him.
Had those points counted towards his PlayStation tally he would likely qualify for the eWorld Cup. Instead, Nicolas has gained points with little gain while Yago could consequentially miss out on the biggest tournament of the year.
---
Portugal's hard work nearly paid off 
---
Portugal were never favourites for the tournament but, at the same time, they are a team that nobody would ever underestimate.
Diogo 'Tuga810' Pombo and Rasta Artur were taking the competition very seriously, as shown by commentator Brandon Smith's tweet as he caught them studying their opponents late into the evening.
People often ask how serious players take their role as Professional Athletes in a tournament.

This was at 10PM last night in the hotel...

Team Portugal 🇵🇹 : @tuga810_ & @RastaArtur studying their opponents for today - clearly it paid off! Incredible stuff! 👏 pic.twitter.com/q7DfK6CZQg

— Brandon Smith (@BSmith_Esports) April 14, 2019
And that hard work paid off as Portugal defeated bitter rivals Spain in a penalty shoot-out which understandably sent the team into passionate celebrations. A semi-final finish was deserved and, on another day, they may well have gone all the way.
---
China costs USA knockouts spot
---
China came into the eNations Cup as the biggest underdogs of the tournament as their players play a different version of the game: FIFA Online 4.
The game is only played in Asia and is based on an older version of Ultimate Team so these players quickly had to learn about timed shooting and flick-up crosses.
The duo adapted very quickly and remarkably were able to make an impact on the tournament.
They were able to claim a huge upset by beating Spain but their biggest accomplishment was their role as competitions spoilers, with USA's Cormac 'Doolsta' Dooley and Giuseppe 'GGGodfather' Guastella, who were looking like one of the strongest teams at the tournament, failing to make it out of the group.
The US had to win their final match but China were resilient and held on for a 2-2 draw, with USA nearly snatching a win with the last kick of the game but a long-shot from distance rattled off the bar and went out of play to leave GGGodfather and Doolsta despondent.
IT'S OFF THE BAR! @Guastella11 🇺🇸 and @doolsta 🇺🇸 are distraught. @ussoccer 🇺🇸 are OUT #FIFAeNationsCup pic.twitter.com/ZGQmV5h7yC

— #FIFAeNationsCup (@FIFAeWorldCup) April 14, 2019