Kaizer Chiefs
Former Kaizer Chiefs and Sundowns striker Mike Mangena granted R50k bail
South Africa Chief Editor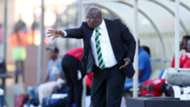 Former Kaizer Chiefs and Mamelodi Sundowns striker Mike Mangena was on Monday morning granted a R50 000 bail.
The South African football legend spent the weekend behind bars following a brief appearance before the Randfontein Magistrate Court on last week. 
Mangena was taken into custody alongside three other suspects following allegations that one of his properties on the West Rand was used as a drug-manufacturing factory.
While Mangena has been released, the other three suspects which the police confirmed were arrested at the reported property, have remained in custody.  
The three suspects didn't apply for bail and it's unclear if they will apply for it at a later stage, the National Prosecuting Authority confirmed. 
According to France Mashele, who represents the quartet, said that Mangena's co-accused didn't apply for bail because they had issues with their passports. 
Two of the three men are reportedly from Malawi, and their passports had expired, while the other suspect had no passport at all.    
Last week, Mangena denied any wrongdoing, although he confirmed that the reported building belonged to him. 
State prosecution team didn't oppose Mangena's application for bail as they felt that the former SABC football analyst was co-operating with the law enforcement agency.
The Randfontein Magistrate's Court postponed Mangena's drug-lab case to February 21, 2019.